Blog
English Paper Piecing: A Comprehensive Guide
Hello, quilters and quilting enthusiasts! Are you interested in starting your journey into the world of English Paper Piecing? If so, you're in luck! In this comprehensive guide, we've gathered all the essential information you need to master this timeless quilting technique. Whether you want to create stunning Grandmother's Flower Garden block projects or explore other English Paper Piecing designs, we've got you covered. So, grab your supplies and let's dive in!
What is English Paper Piecing?
English Paper Piecing is a versatile quilting technique that uses paper templates and fabric to create perfect shapes. With this method, you can create unique and beautiful quilt blocks that can be arranged in various ways. While we'll focus on the iconic Grandmother's Flower Garden blocks in this guide, the tips and methods we share can be applied to other English Paper Piecing projects as well. So, get ready to expand your quilting repertoire!
Essential Supplies for English Paper Piecing
To get started with English Paper Piecing, you'll only need a few basic supplies:
English Paper Piecing Templates: We recommend using the high-quality templates from Paper Pieces. Specifically, we suggest using this exact paper template for all your Grandmother's Flower Garden quilt projects.
Cardstock (if making your own templates)
Fabric or fabric scraps
Sewing needle: For stitching, applique, and binding, we prefer needles like these.
Thread: We recommend using 50 wt. Aurifil thread, the same thread we use on our machines.
Glue (optional): While we don't personally use this technique, many quilters find it helpful. You may want to explore this popular brand.
Hole punch (optional)
Cutting Basics for English Paper Piecing
When cutting fabrics for English Paper Piecing, it's crucial to add a scant ⅜" seam allowance on all sides of the template. Using tools like the Accuquilt Go! Cutter and a specific hexagon die can make this process much easier. For instance, we use this hexagon die to cut out fabric shapes for 1″ hexagon paper pieces. It allows us to cut multiple fabric pieces at once. Alternatively, you can use this acrylic template to cut fabric pieces.
Stitching (and Glue Basting)
When it comes to stitching the fabric around the English Paper Piecing templates, you can choose between two methods:
Slipstitch: This simple stitch involves sewing through the fabric, but not the paper, to secure it around the template.
Glue basting (optional): Some quilters prefer using a small dot of glue to hold the fabric in place. By placing dots of glue in the center of each side of the template, the fabric can be easily removed later.
To see demonstrations of these stitches and an overview of the simple applique stitch used, check out the videos we've linked below.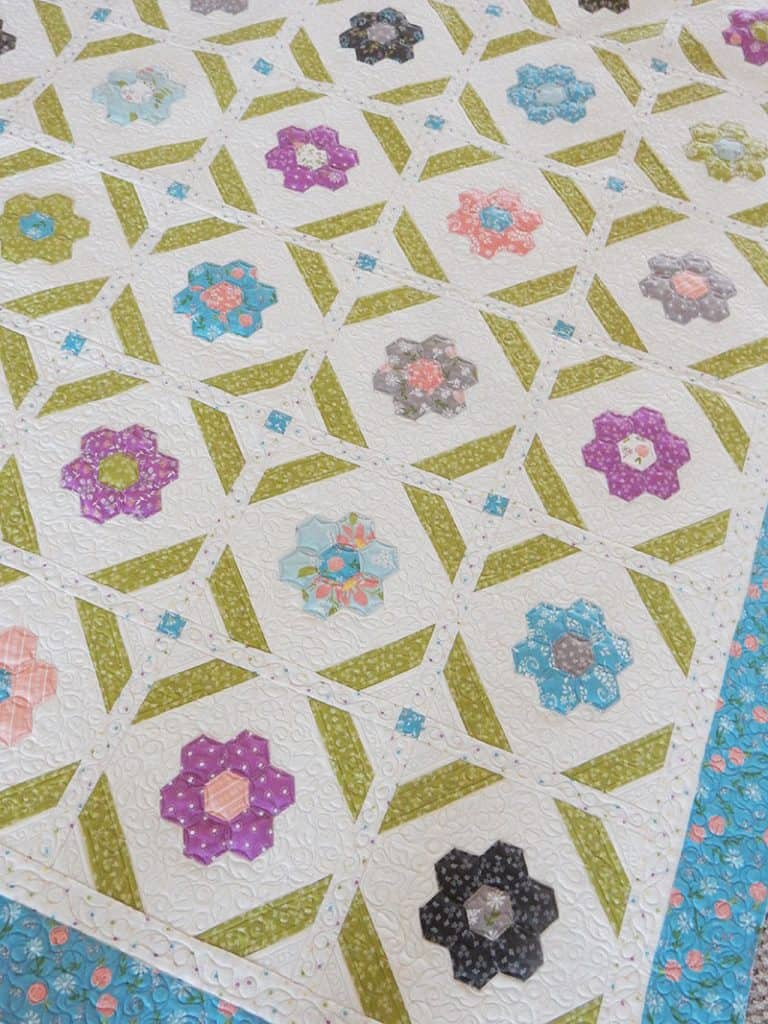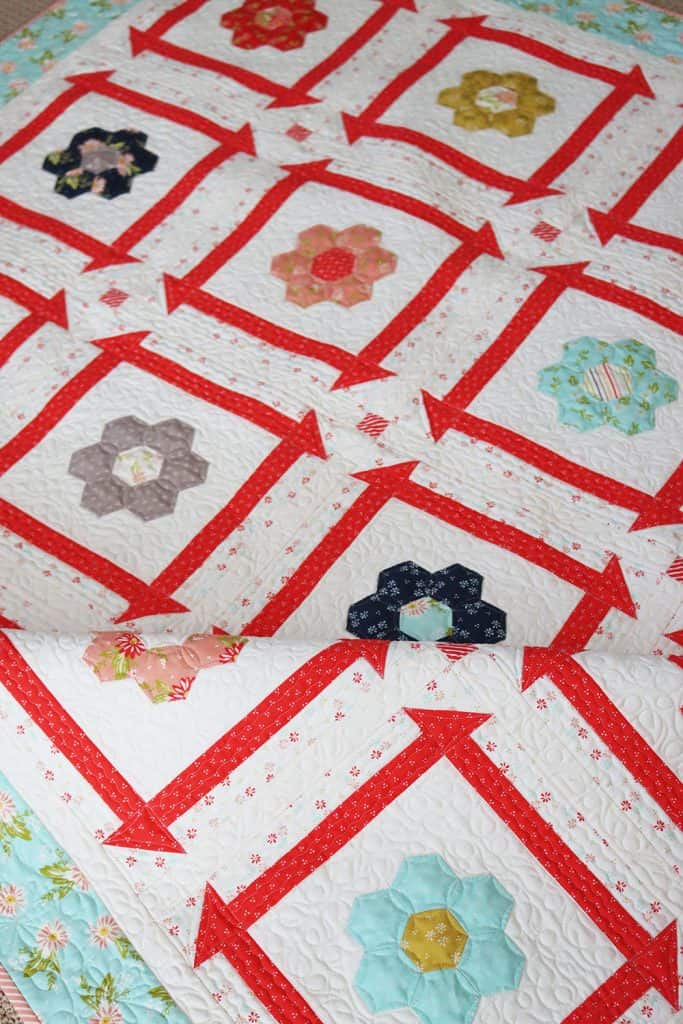 Blooms (left) and Sweet (right). Patterns linked below in the projects list.
Removing Papers
For our projects, we leave the papers in the fabric until we're ready to applique the finished units onto background fabric or attach them to other units. When it's time to remove the papers, a simple pinch is all it takes to pull them out. We even iron our used paper pieces to reuse them in future projects.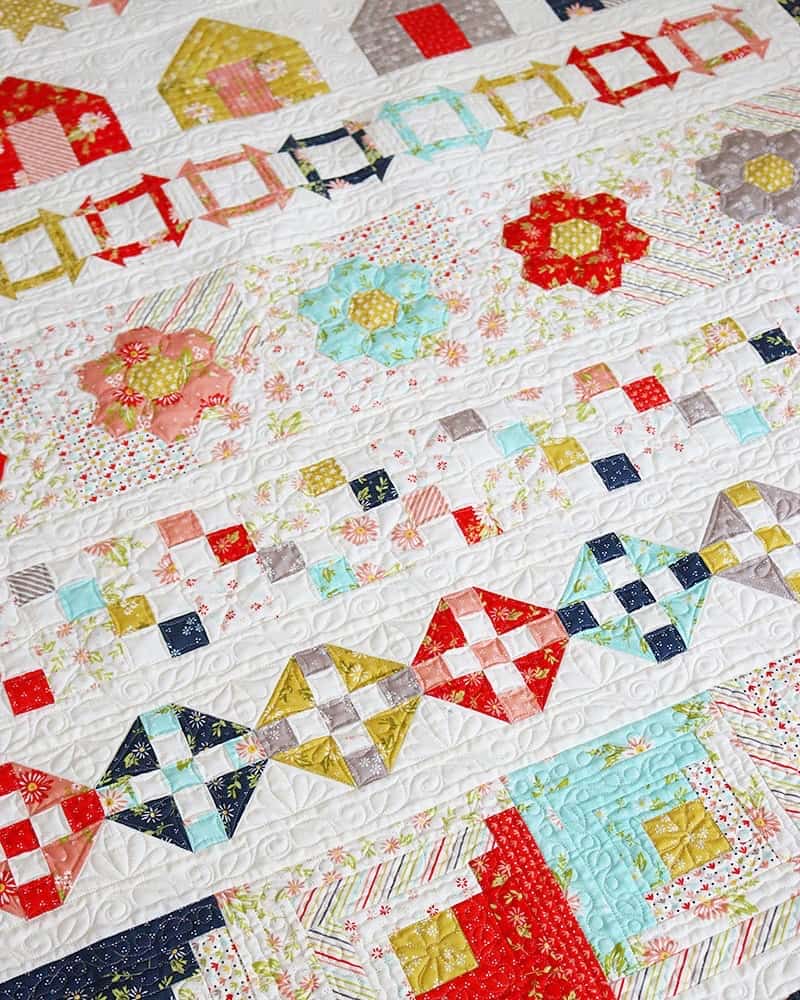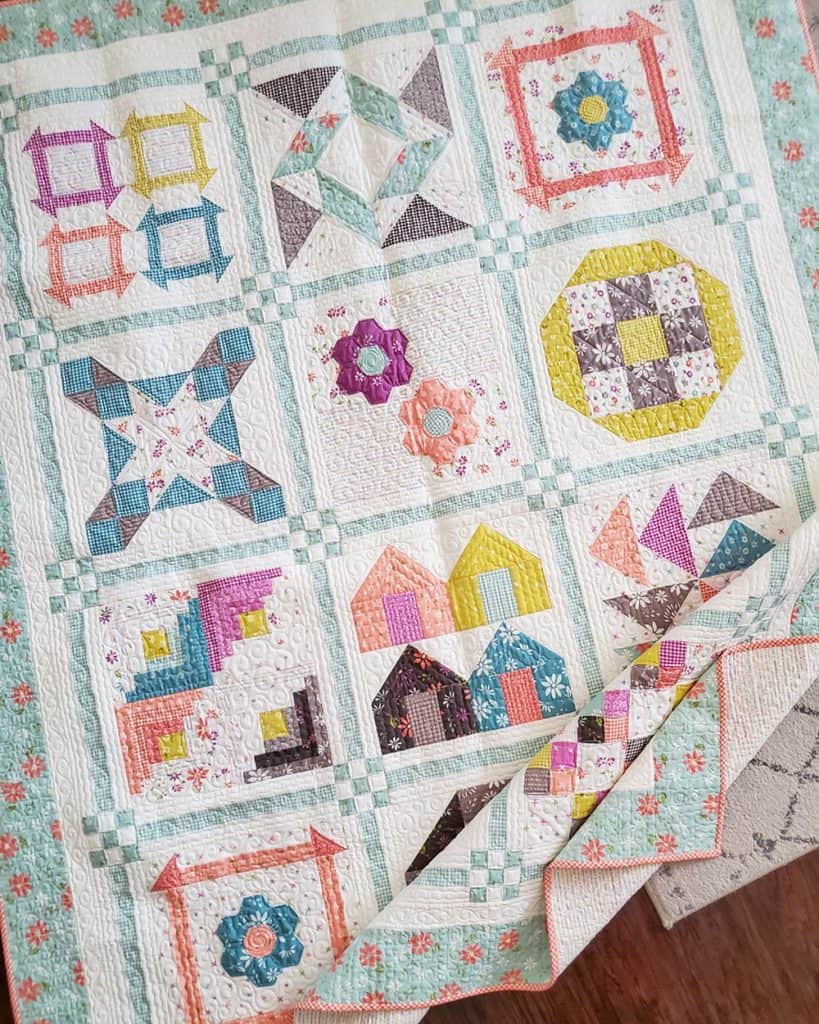 Beach House (left) and Summer Fun (right). Patterns linked below in the projects list.
Attaching to Background Fabrics
To attach the finished English Paper Pieced units to background fabrics, we use a simple applique stitch. For a step-by-step demonstration of our technique, check out the linked video below. If desired, you can also machine-stitch your finished blocks to background fabric. Many quilters have created beautiful quilts using a machine-stitched method.
Exciting Project Ideas
Now that you have a good grasp of the English Paper Piecing technique, it's time to explore some captivating projects. Here are a few of our favorite Grandmother's Flower Garden block projects to inspire you:
Framed Hexagons (free tutorial)
Window Box from the delightful collection Labor of Love
Bouquet (lap size and mini versions included)
Sweet
Blooms
Flowers for Emma
Beach House
Summer Fun
Video Links
To further enhance your understanding of English Paper Piecing techniques, we've put together some helpful videos. In these videos, you'll find step-by-step demonstrations of the methods we've covered in this guide:
We hope that our Simple Guide to English Paper Piecing has provided you with valuable insights and information. If you have any questions, feel free to leave them below, and we'll be happy to assist you. Happy quilting!