Blog
Hand Paper Shredder
Do you often get paper spam mail?
And you wish to take out all the anger on that spam mail or are you an artistic spirit?
Try a hand paper shredder it will surely help you in your creative endeavors or in dealing with stress. Read on to learn more about hand to hand shredders.
Manual And Electric Shredders
When it comes to the papers shredders for personal use, there are many models available. Two main types are manual and electric paper shredders. Electric paper shredders need a power outlet or at least batteries if we're talking about portable models, and they are more for serious use since you can shred multiple sheets of paper at the same time. They are also much bigger and produce more noise. If you don't need anything big or when you are just sick and tired of big electric shredders that use a lot of your space, need a power outlet and produce a lot of noise, they often jam and they cost a lot of money, handheld shredder are an option for you.
About Hand Operated Shredders
Most of the hand operated paper shredders will provide you with the basic strip-cut type of shredding, with only a couple of models that will do the cross-cut. And that shouldn't be a surprise since they are mainly for light use at home. They are made from plastic and most of them can only cut one sheet of paper at the time, and they cannot cut credit cards or CDs. All of them have a relatively low hand shredder price but you can always wait for a hand crank paper shredder sales which are common. If you are looking for heavy duty manual paper shredder they aren't produced commercial. You can find some hand made ones but that's all.
What Are They Good For?
But they will be more than enough if you just need it to occasionally destroy some sensitive documents, old bills or junk mail. Great thing is that they don't need electricity, just the strength of your own muscles and patience to cut one sheet at the time. Another big bonus is that they don't produce a lot of unnecessary noise like electric versions.
Art With Shredders
You might ask yourself what is he talking about but please, read on. What do you get if you put colored paper into a paper shredder? That is right colored strips which can be used to make pretty shapes and sizes. Manual paper shredders are excellent for quilling.
This article will bring you closer to the hand crank shredder machine available on the market. Check out the hand crank paper shredder reviews down bellow.
Top 5 Manual Paper Shredder Reviews
Hand Crank A4 Manual Paper Shredder With A Waste Bucket
Sanwa Supply Hand Shredder Psd-12
This handheld paper shredder is great for house use. You can easily place it on a desktop and it won't take a lot of space since its dimensions are only 7.3" x 6" x 4.2" and it weighs only 1.12 ounces. It consists of two main parts – shredder unit and waste basket. Shredding unit has a plastic handle which is used to rotate blades.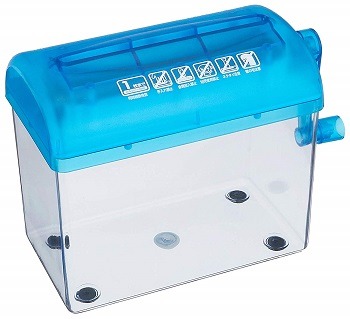 Blades can cut one A4 sheet of paper folded in two length-wise into long thin strips. If you overload it, blades can be damaged and it can jam. Shredding unit is on top of a 1.5 L waste basket, and it is easy-removable to empty the bin.
This shredder is not good for cutting credit cards and similar items, and before shredding your documents, bills and junk mail you should remove all staples and paper clips. It can be used for arts and crafts, especially quilting since it gives clean-cut strips. Since this is not electric shredder you don't have to make a cool down break, well it depends how quickly you get tired.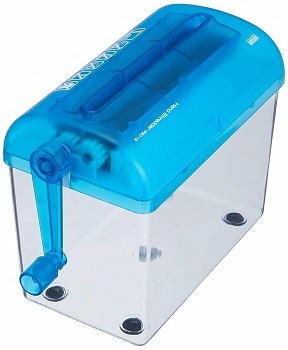 When you're not using it, you can store it almost anywhere until you need it again or you can even take it with you. Still, this is a plastic shredder for light use only and you should treat it like that. If you have bigger loads for shredding then you might consider buying some bigger paper shredder.
Buy On Amazon
Stylish Mini Manual A6 Paper Shredder
Hand Paper Shredder Senrea
This handheld shredder is even smaller than the previous one, with the dimension 6.7" x 5.9" x 4.1", it fits perfectly on any desktop area. It is made from durable plastic and it's great for school, households and small offices. It will shred any smaller paper such as old bills and receipts, small notes and any A6 size paper.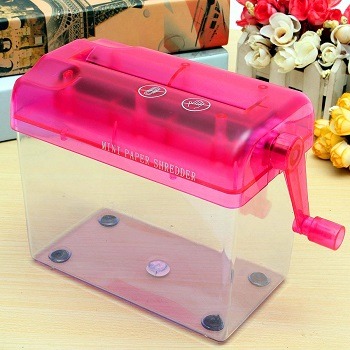 This shredder has 4.8" wide insert slot, so if you want to shred A4 size paper you will have to fold it lengthwise, and also you shouldn't overload it with more than 2 layers of regular paper. This manual paper shredder is also equipped with a clear plastic wastebasket; it can be easily removed from the shredding unit to empty it.
Shredding the paper is really simple, you just have to insert the paper in the designated slot and start turning the handle which will rotate the blades. It's good for light use, if you don't overload it with too thick material, it will shred for hours continuously, as long as you have strength left to turn the handle.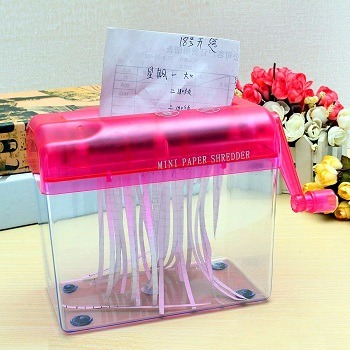 It cuts paper into long thin 0.2" wide strips, blades are pretty sharp so it can be used for quilling since the paper won't be crumpled in the bin. This shredder is not sharp enough to cut through credit cards or CDs, only paper without paper clips or staples
Buy On Amazon
Portable Handheld Paper Shredder
Muji Handy Shredder
To power this shredder you also won't need any electricity, just the strength of your muscles to twist the handle that will rotate the blades. The dimensions (7.3" x 2" x 1.1") and compact design makes this manual paper shredder perfect for personal use.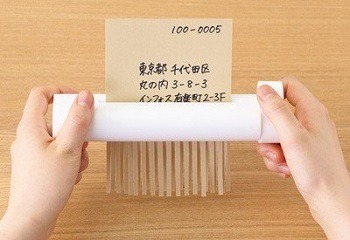 It's great for households, schools or small offices that don't need to use it too often, due to its small size it can be stored basically anywhere, shelves, organizing boxes, desk drawers, etc. This shredder is completely portable so you can put it in your purse and take it anywhere with you, you can even hold it in your car to shred paper bills and notes.
To use this shredder is quite simple; it's lightweight and fits well in hands. The input slot is narrow so you will have to fold an A4 sheet of paper lengthwise for it to fit in, the twisting handle is in the extension of the shredder, and you can twist it both ways to start the blades. This will cut any small papers or folded A4 sheets in thin strips, providing you with a decent level of security.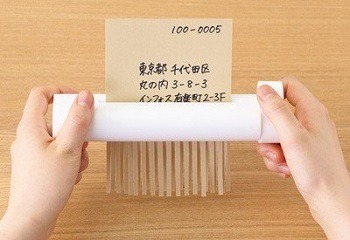 It is not fitted for credit cards or CDs/DVDs. Actually, you shouldn't put more than 2 layers of paper at the same time, or one if it's heavier material like for the post cards. This shredder makes for a great mini hand shredder for quilling due to its handinnes.
Buy On Amazon
Handy Portable A6 Paper Shredder
Portable Hand-operated Paper Shredder
A shredder like this is great for its size, price and compact design, and it will serve the purpose of shredding paper. Rotating blades are inside the plastic case and in extension is twisting handle for manual operating the blades in both ways. The insert slot is 4.5" wide so if you want to shred A4 size paper sheet, you should fold it in half lengthwise.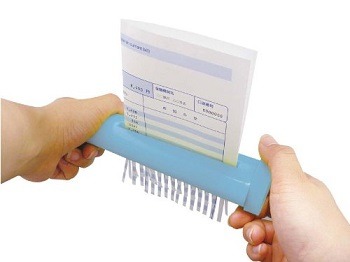 The blades cut paper into 3.5 mm thin strips, and since it doesn't have a waste bin you can shred directly above your trash bin, or in a trash bag. It is great for any small papers, as long as you don't put more than 2-3 layers, otherwise, it will jam the shredder, or even damage it.
This shredder is wonderful for personal use, when you don't have too many documents to shred and you don't want an expensive model that will take a lot of your space. The dimensions are 9.8" x 1.1" x 3.8" and that makes it easy to store at almost any place when you don't need it, like kitchen cabinets or drawers.
Since this is not electric paper shredder, there are no cables or batteries so you can use it anytime no matter where you are, if you are a traveler, you can keep it in your car, or even at the desk in your office when you just don't want to get up to shred a few papers.
Buy On Amazon
Hand Crank Cross Cut Manual Plastic Shredder
Nakabayashi Co, 3 Ways Manual Shredder
This is the only cross cut manual shredder available; it will shred paper into 0.12" x 0.78" small pieces providing you with a better level of security than the strip-cut paper shredder. It's composed of two parts, shredding unit which is on top of the clear waste bin, and when put together, dimensions are 12.6" x 7.6" x 5.9". It doesn't take up a lot of space so you can store it on your desktop surface or shelves to make it always available for you. It also comes in four different colors, white, black, pink and blue, to fit any design.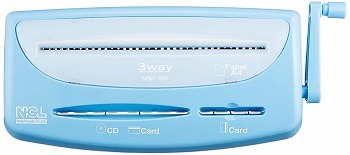 Shredder like this is great for personal use when you don't have big loads to shred. It will efficiently destroy any A4 paper, one at the time, lengthwise without folding it since it has a wider insert slot. It also has two separate slots for credit cards and CD/DVDs, and it will shred them with ease. You just have to insert the paper into the slot and manually twist the handle to rotate the blades.
Shredded pieces fall into 3.3 L waste basket, that can hold up to 20 sheets of paper, and since it's made from clear plastic you can easily see when it needs emptying. Shredding unit is a little bit heavier and it's not secured to the waste basket, you should hold it in place while using it, otherwise, it can be tipped over and you will have a room full of shredder paper.
Buy On Amazon
Conclusion: The Best Stress Relief Hand Operated Paper Shredder
The best and most versatile hand crank paper shredder must be the Nakabayashi Co,Ltd 3 Ways Manual Shredder. You can let your anger out on not only paper but CDs, and credit cards too. It is easily the best hand powered paper shredder on this list. As for a manual paper shredder for quilling. I would choose any manual shredder on this list that is not cross cut. For more portable paper shredders check out my article on the best 5 portable paper shredders. You might also be interested in the small and mini paper shredders, if so I encourage you to check out my article. For more research on paper shredders check out my article on best home office paper shredders.