Blog
11+ Classy Paper Bag Shorts Outfit Ideas for Summer
Looking to rock a pair of paper bag shorts this summer? Discover a collection of stylish and elevated paper bag shorts outfits that exude minimal vibes. Whether you're headed to the beach or attending a wedding, these versatile outfits will have you looking effortlessly chic.
Paper Bag Shorts Outfit 101
Paper bag shorts have stood the test of time, remaining a timeless wardrobe staple. The cinched waistband and unique tie detail elevate these shorts above the ordinary, making them suitable for any occasion. From casual beach days to formal events, paper bag shorts effortlessly transition from one setting to another.

Image: @fashionmugging
Are Paper Bag Shorts Flattering?
Absolutely! The cut and style of paper bag shorts flatter every body type. The high, cinched waist accentuates your natural curves, while the looser fit around the hips draws attention away from any insecurities. Moreover, the relaxed fit around the legs ensures comfort without any thigh squeezing.

Image: @un-fancy
How to Style Paper Bag Shorts
To make your paper bag shorts look their best, pair them with a top that can be tucked in at the waist or opt for a stylish crop top. Since paper bag shorts flare out above the waistband and often have a tie, it's important to showcase this unique detail. Tucking in your shirt helps avoid a bulky look and ensures a clean silhouette.
As for footwear, the options are endless! Paper bag shorts complement a variety of shoes, including sneakers, sandals, flats, heels, and ankle boots. Embrace your personal style and experiment with different shoe choices.
(@alpa.rama)
What Tops Go with Paper Bag Shorts?
Here are some of the best tops to wear with paper bag shorts:
Body-con tank tops
Sleeveless, short-sleeve, or long-sleeve bodysuits
Crop tops
Basic t-shirts
Button-up shirts
Lightweight blouses
All of these tops can be easily tucked in or have a cropped style, ensuring they complement your paper bag shorts perfectly.

Image: @busbeestyle
Paper Bag Shorts Outfit Ideas
Now that you have learned how to style paper bag shorts, let's explore some chic and minimal outfit ideas suitable for various occasions.
Paper Bag Jean Shorts Outfit

Image: Quill And Fox
Shop the look:
Cute and casual, this outfit featuring denim paper bag shorts is perfect for everyday activities like running errands or meeting up with friends. The trendy denim shorts add a unique twist to your basic wardrobe staples. For an evening look, swap the sneakers for a pair of cute heeled sandals and switch the long-sleeve top for a black camisole. You'll be date night ready in minutes!
Black Paper Bag Shorts Outfit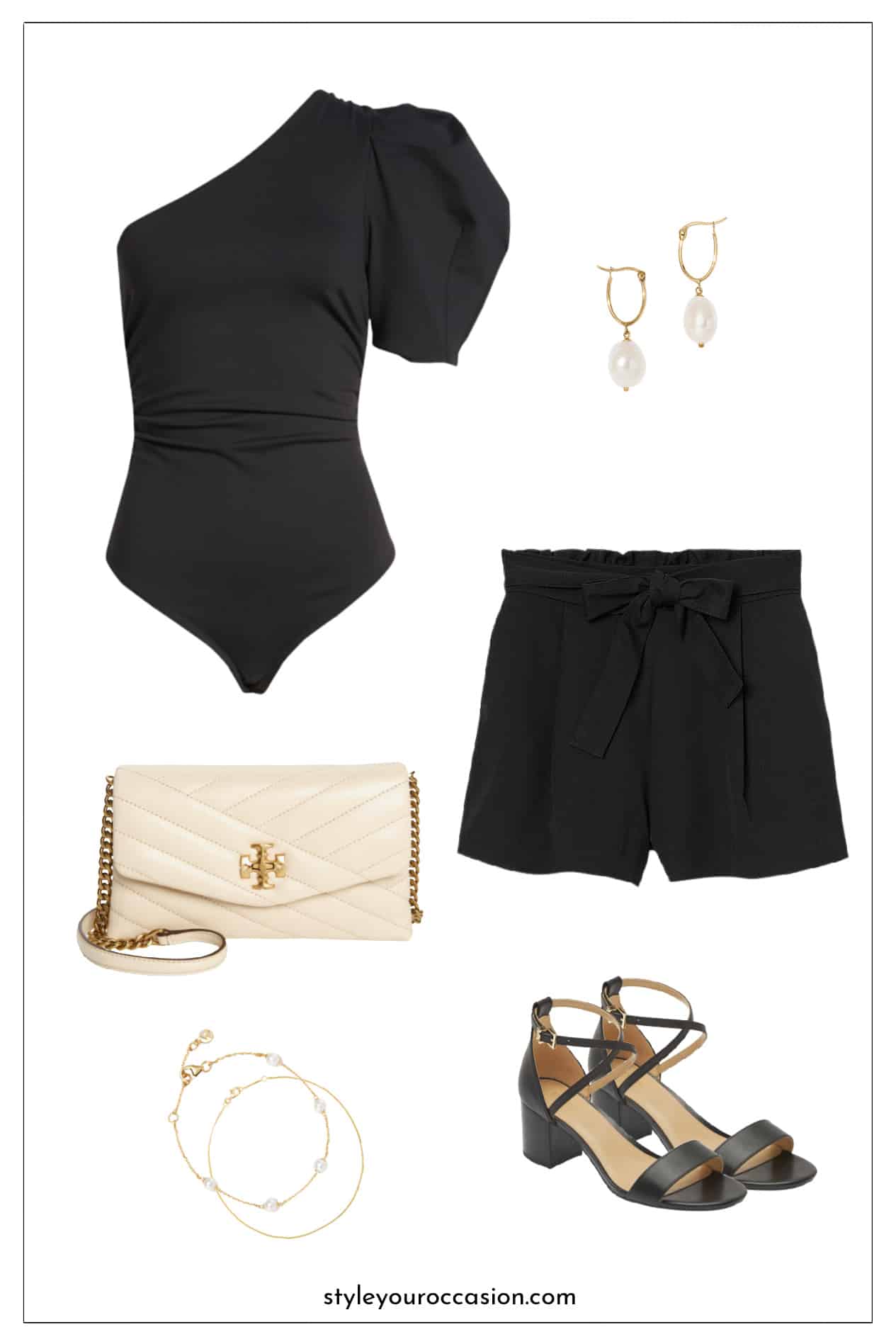 Image: Quill And Fox
Shop the look:
Black paper bag shorts can be dressed up or down effortlessly. This look is perfect for fancy occasions such as weddings, parties, or date nights. Pair the shorts with black heeled sandals, a cute bodysuit with puff sleeves, dainty gold pearl jewelry, and a designer bag. To dress down the black paper bag shorts, swap the heels for flat sandals and opt for a simple black tank top. Simplify your jewelry and trade the designer bag for a casual tote or straw basket bag.
Paper Bag Shorts with Crop Top

Image: Quill And Fox
Shop the look:
This outfit is perfect for sunny days at the farmer's market, sipping wine on a terrace, or grabbing coffee with friends. Pair a linen blend crop top with cotton paper bag shorts, strap leather sandals, and complete the look with straw accessories like a hat and bag. To transform this look into eveningwear, swap the sandals for heeled sandals and trade the hat for some gold jewelry.
Casual Blouse + Paper Bag Shorts

Image: Quill And Fox
Shop the look:
The classic button-up blouse beautifully complements paper bag shorts, creating a casual yet elevated look suitable for various occasions. In the outfit above, we combined a simple short-sleeve blouse with black sandals, a straw handbag, sunglasses, and a pendant necklace. To achieve a slightly dressier vibe, swap the flat sandals for heeled sandals and opt for a chic black leather crossbody bag.
Dressy Blouse + Paper Bag Shorts

Image: Quill And Fox
Shop the look:
For a more sophisticated look, pair paper bag shorts with a dressy blouse. Opt for a blouse with a pretty print or embroidered detail and pair it with light or dark paper bag shorts. Complete the outfit with pumps or heeled sandals, dainty jewelry, and a stylish bag. This paper bag shorts outfit is perfect for bridal showers, outings with friends, family events, dates, and more!
Beach Day Paper Bag Shorts Outfit

Image: Quill And Fox
Shop the look:
For a perfect day at the beach or poolside, layer a pair of casual paper bag shorts over a one- or two-piece swimsuit. Add a button-up shirt for extra sun protection and slide on a pair of simple sandals. Don't forget your beach bag! This versatile outfit will effortlessly take you from the water to brunch, lunch, or exploring during summer or vacation.
(@sezane, @stylewithtiffanyd_)
Are Paper Bag Shorts in Style in 2022?
Yes, paper bag shorts are definitely in style in 2022 and serve as a valuable addition to your summer wardrobe. Keep a pair of paper bag shorts on hand for casual beach days, brunches with friends, and even dressing up for laid-back summer weddings.
We hope you enjoyed this article and feel inspired to create your own paper bag shorts outfits. Which outfit was your favorite?