Blog
Paper Pieced Patterns
0
Out of all the things I have tried over the last months, foundation paper piecing is my favorite way to use up scraps! I literally spent dozens of hours to find the best templates on the web. Browse my extensive collection of printable paper piecing blocks and paper pieced quilts below. You will find free paper piecing patterns for beginners and users with lots of experience under their quilting belt. From butterflies and foxes to modern geometric paper pieced blocks, there is a template for everyone.
As usual, the link for each paper pieced block is under the image and the description. Some of the patterns and templates are in JPG format and others are in PDF format but you can download either of them on your computer. Enjoy!
What is the difference between English paper piecing (EPP) and foundation paper piecing (FPP)?
Both EPP and FPP techniques are used to make quilts or smaller quilting projects like bags and pillow covers and both are great ways to use up scraps from other projects. However Foundation piecing technique is done on a sewing machine and you can't reuse the paper templates. English paper piecing technique allows you to reuse the paper patterns and is done by hand.
Free paper piecing patterns
Butterfly charm blocks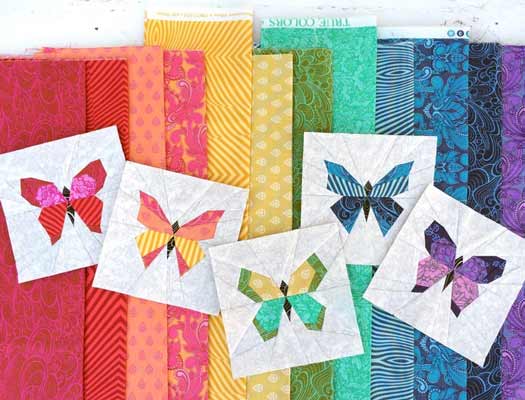 These butterfly charm blocks will make your next quilting project much more beautiful and creative with their amusing design that features a white background with a colorful butterfly with wings that aren't round but more polygonal over it, coming in four different options for you to choose from that differ in wing shape and color of the entire butterfly.
by Lillyella
Maple fox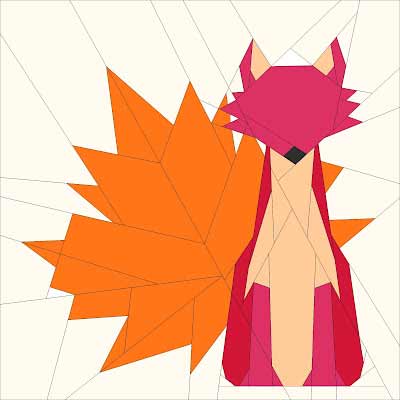 Enrich your projects with a sentiment of an autumn forest as you use this pattern that has a depiction of a sitting fox and a large maple leaf behind it, all made from polygonal shapes in different sizes joined together to resemble a glass mural or a stained glass scene.
by Jednoiglec
A new quilting adventure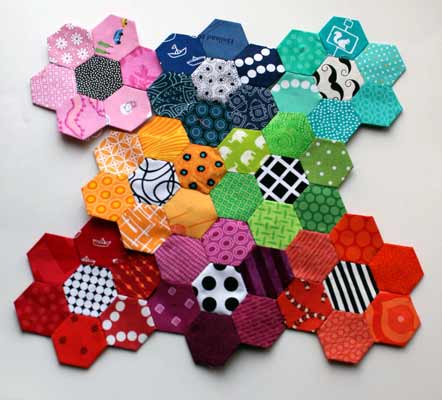 Rainbow reinvented in the form of gorgeous honeycomb clusters, that's how you could briefly describe this pattern that shows you how to make blocks out of seven hexagonal shapes joined into bigger hexagonal shapes of the same color, then matched with identical blocks in different colors that are also in the rainbow specter to create even larger clusters of vibrant hexagon blocks!
by Wombatquilts
Atlantic seas block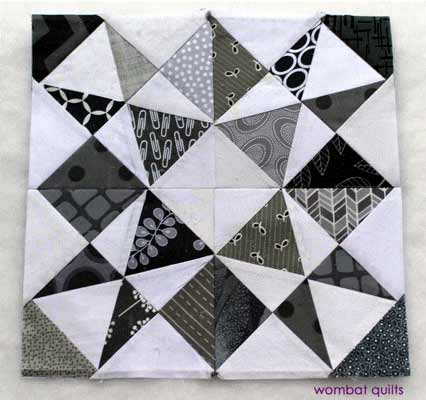 This one could make you a bit dizzy because it's extremely vivid even though it's in black, white, and gray colors, due to the design that consists of diamond-shaped blocks made of three triangles, all set around each other to produce an illusion of something opening up from the center with numerous triangles pointing outward, much like the image you see when you look into a kaleidoscope.
by Quilterscache
Gretchen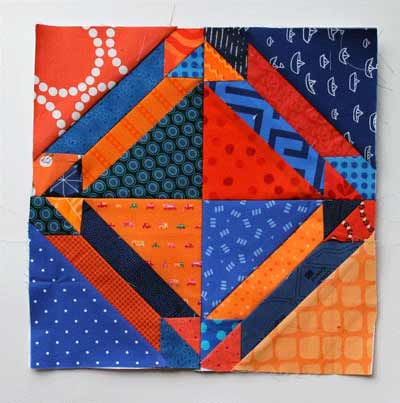 One can never get enough of diamond shapes on their quilts, that's the idea behind this pattern that has a big diamond made of four triangles in different colors but of the same shapes in its center, then a thin double frame of contrasting strips around it finished with four contrasting triangles in the corners of the entire quilt.
by Quilterscache
Hunter's Star
This pattern might seem complex but when you break it down, you'll realize it's easy to make even though it looks so amazing since it's a sawtooth star made of contrasting rhombus pieces in the center with lines made in the same fashion protruding from it diagonally, complete with contrasting triangles between the corners where the ends of the X shape stop.
by Quilterscache
Fly foot 2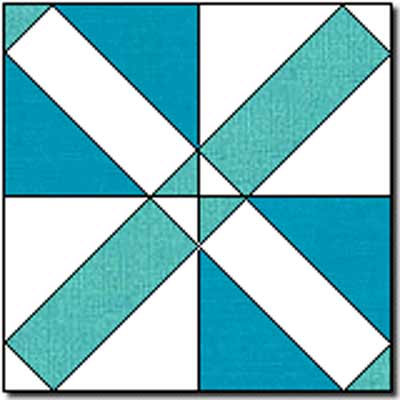 Here we have a pattern with a square base made of four smaller squares that match in color diagonally, followed by a small diamond patch with an hourglass design at the point where the corners of the four squares touch, with long rectangles that stretch from the four edges of the diamond almost to the corners of the whole piece, each in contrasting color compared to the background.
by Quilterscache
Ellen's snowball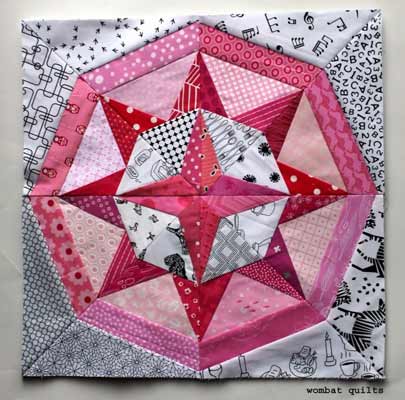 Here comes something you don't see often, an octagonal snowball pattern, featuring a square base with the snowball on top, with the snowball having a thin frame around its edges, then a star with eight points, followed by a smaller, contrasting octagonal snowball inside it, where an additional star with four thin points stands.
by Wombatquilts
Fireworks pinwheel block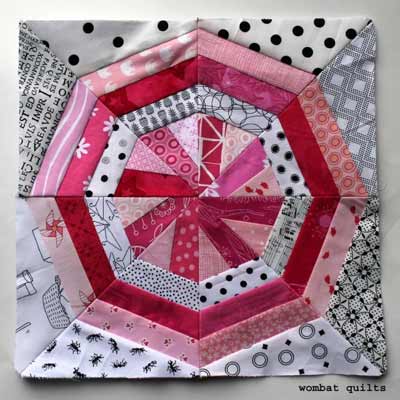 The wheels on the bus go round and round but so does this pinwheel pattern that has a central section consisting of colorful, slightly offset triangles joined together into a polygonal ball that looks like a turning wheel, bordered by three octagonal frames in different colors, all set on a bland square base.
by Wombatquilts
Crest star pattern block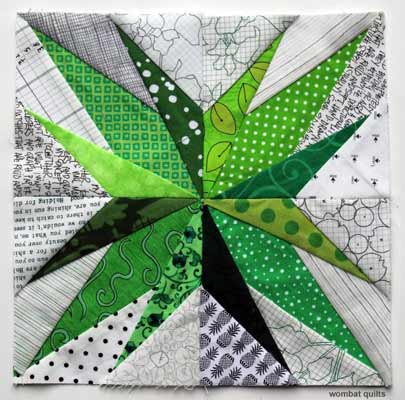 If you ever wondered what would a leafy star look like, here's your answer in the form of a quilt pattern, with numerous pointy, long triangles in slightly different shapes and in different hues of green stretching from the middle of the quilt that boasts the motif of a star with twelve points on a white background.
by Wombatquilts
ET phone home – the quilt block template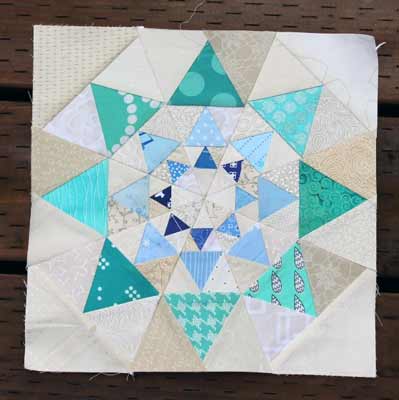 The pattern we have here uses simple triangle pieces in contrasting hues to create a magnificent octagonal ring that has eight outward-pointing triangles in matching colors resembling a diamond shine, followed by two identical but progressively smaller rings inside it, all laid out on a mild color base.
by Lilysquilts
House quilt block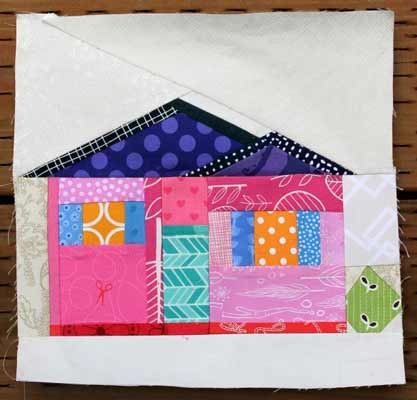 Our house, in the middle of our street, and in the middle of this pattern, featuring a cute quilted house that has a double roof and all the other main parts of the house like front doors, windows, and even blinders on the windows, with all parts in adorable bright colors.
by Wombatquilts
Starry night block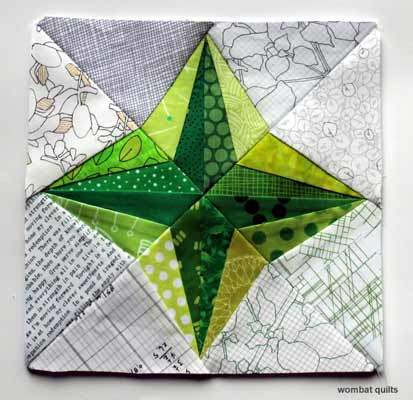 Here comes a block that will come in handy for your future quilting projects and make them beautiful with its design that has a background in white or gray color with a lovely star with four ends that point up, down, left, and right, decorated with another identical but smaller and darker star inside the big one.
by Wombatquilts
Icky Thump block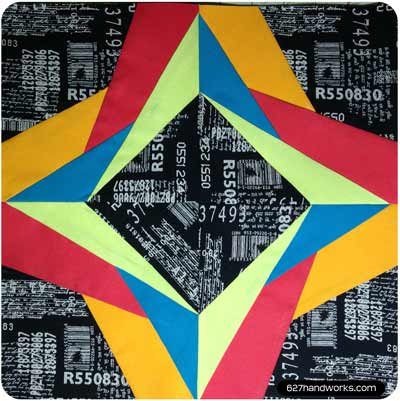 The pattern we have here is modern, creative, and cool because it makes you think of those awesome flying ninja stars, due to the dark background that has a four-point star made of triangles in two alternating colors with an additional smaller star inside in contrasting colors, finished with a diamond in its center that matches the background so it seems as if the star has a hole like the ninja kind.
by 627handworks
Zeppelin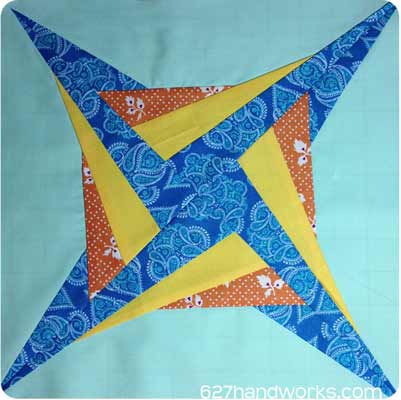 Fear not, this one isn't difficult as it seems, it's just four long and narrow triangles in color one joined into a tilted four-point star that has a square base, then four similar but shorter triangles in color two, set to align with the outer edges of the star, with even smaller identical triangles in color three aligned to the outer edges of those pieces, rounded up with four little thin triangles in color one aligned to the outer edges of the ends of the star, all set on a background of your choice.
by 627handworks
Bowie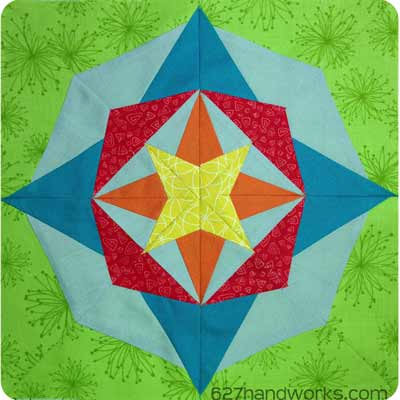 The pattern here has a complex look to it, but when you break it down you'll see it's simple, an octagon with a four-tip star on it, then a smaller octagon inside with its own four-tip star set on a diamond, with a finishing touch of a smaller tilted four tip star on its center, with all of the mentioned parts in different colors.
by 627handworks
Birds in the Air Quilt Block Pattern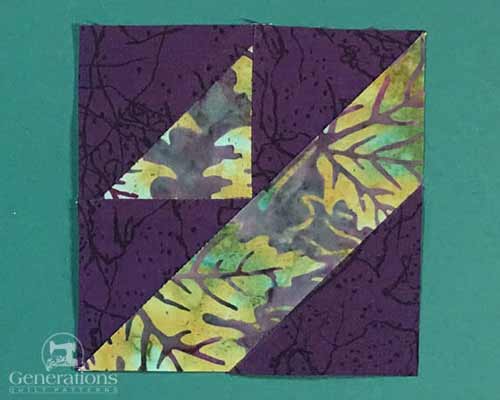 Minimalistic, modern, and absolutely beautiful, that's what this block is, with its square base in one color, then a diagonal strap in its bottom left section that looks like those expensive whiskey labels, with a matching triangle piece in the top-right section pointing to the strap.
by Generations-quilt-patterns
Dutchman's Puzzle Quilt Block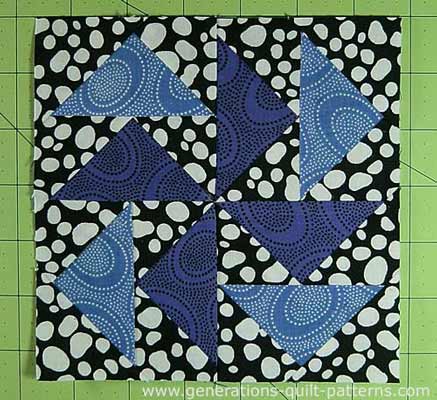 You haven't seen a puzzle as fun as this quilting block one, featuring a square colorful fabric base with eight identical triangles, half of which are in contrasting colors, arranged so they alternate in color and position, with the pair in the bottom-right corner pointing down, the pair left to it pointing left, the pair in the top-left pointing up, and the pair right to them pointing to the right.
by Generations-quilt-patterns
Joyce's Mystery Quilt Block Pattern
4-1/2″, 6″ and 9″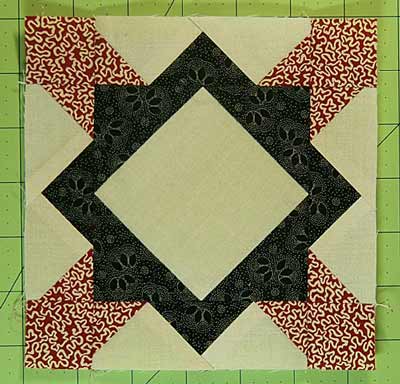 Here we have a unique block that will allow you to make some luxurious quilts with its peculiar but beautiful design that has a mild color background with four thick stars pointing from the middle to the corners, and a shape that is a fusion of a square and a diamond in identical sizes and colors, finished with a diamond in the color of the background inside it at the center of the block.
by Generations-quilt-patterns
Foundation Paper Piecing Instructions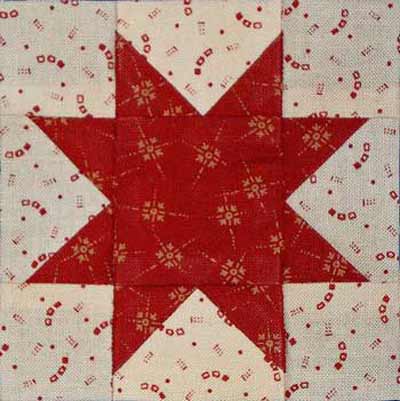 This pattern will help you make a simple block with a sawtooth star on it, but the best part about it is that it will also give you some extremely valuable hints and tips about foundation paper piecing that will help you make quilts faster and easier than before, with no common mistakes.
by Generations-quilt-patterns
Virginia Reel Quilt Block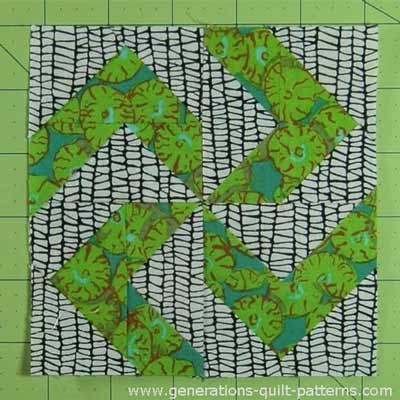 Reinvent the good old spiral design as a modern, rectangular spiral that will give your quilt those lovely spring vibes with its spinning windmill shape with 90-degree corners on its wings that narrow down into triangles at the center, all made in two tones of bright green colors.
by Generations-quilt-patterns
Fat Quarter Gang – Fly With Me mini quilt by I Heart Linen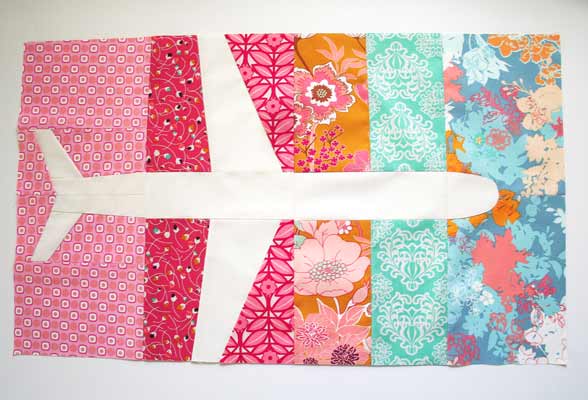 It's time to take off with the plane that's waiting for you on this pattern with a base made of differently colored straps joined together by their long edges, starting and ending with wider pieces, finished with a white silhouette of a top-down airplane set on the strips as if it's waiting on a runway.
by Artgalleryfabrics.typepad
Playing with Blocks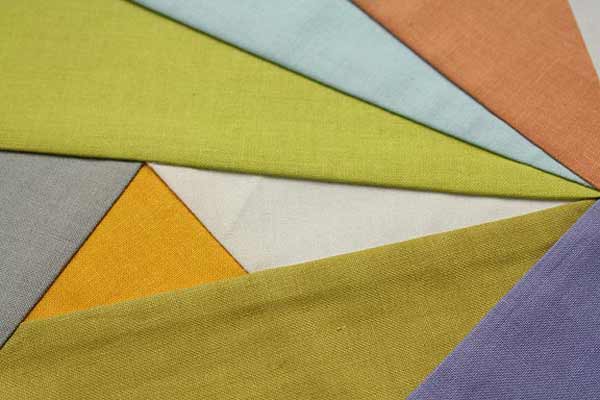 This pattern takes fun with shapes to a new level as it shows you how to cut up different fabrics into various shapes like strips and triangles, then stitch them together seemingly randomly but with great intent and care to get a quilt that looks a lot like modern abstract paintings that can awake all kinds of emotions in the observer.
by Thelongthread
Red Herring Paper Pieced Block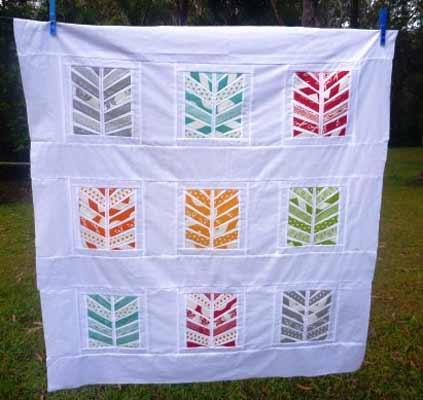 The pattern here uses the famous herringbone design slightly differently than it's usually used because it utilizes it in nine blocks made in different colors, set in a 3 x 3 grid, but with plenty of space between the blocks, so even though the herringbone blocks are small, they are more pronounced since they stand out on the pure white background.
by Quietplay.blogspot
Cow Block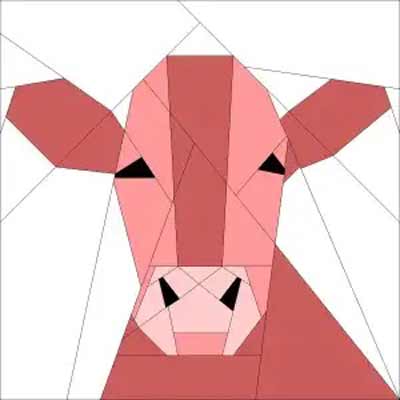 Cows are angelic animals due to their pure and kind nature, but also due to their adorable looks, and this block somehow conveys that wonderfully, featuring a portrait of a cow face made of triangles in four colors combined together like a mosaic image of the beautiful animal.
by Piecemealquilts
Up in the air, we fly…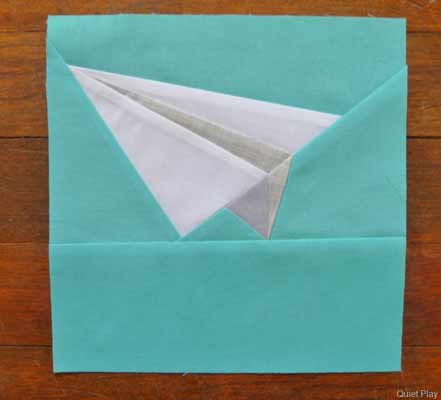 Bet you didn't think you would be making paper airplanes at this age but here you are, making one, but in the form of a quilting block that has a depiction of a flying paper airplane viewed from the top-left side and slightly from behind, with a green background behind it to pronounce the white plane more effectively.
by Quietplay
The Warsaw Mermaid
Sailors beware, because here comes your worst enemy transferred onto a quilting block, a beautiful siren with long curly blonde hair fluttering in the wind while she sits on a rock in the middle of the ocean, with her colorful fin visible and entirely out of the water, as well as a colorful background that symbolizes Warsaw's nightlife.
by Jednoiglec
Spinning Pinwheel Block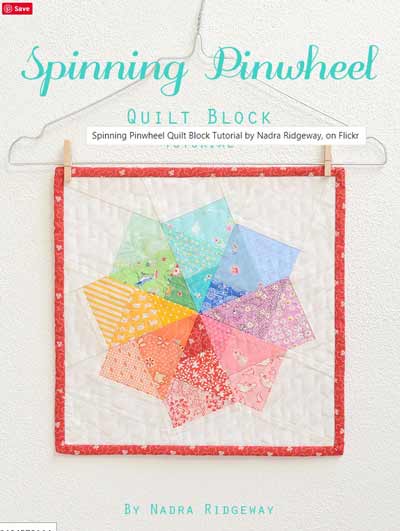 This block will help you make a lot of cheerful and bright quilts, featuring a thin red frame around the edges, a white base, and eight slightly transparent rectangles in all kinds of colors set in a circular manner in the middle so they touch at the corners and go over each other a bit to create an appearance of a turning windmill or pinwheel.
by Ellisandhiggs
Foundation Paper Pieced Carrots Mini Quilt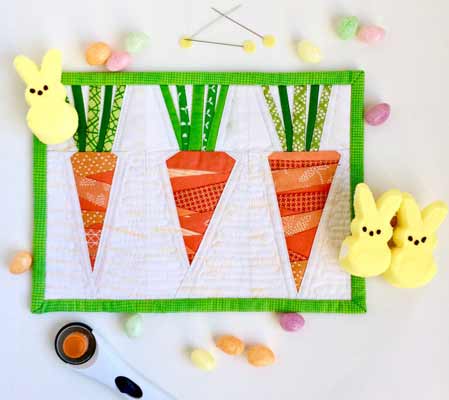 Here comes a ridiculously cute mini quilt that is ideal for decorative purposes on Easter, with a thin green frame around the edges, a white background, and three orange carrots next to each other that seem to hang from the top edge of the quilt by their thin green stems in bulks of five on their top sides.
by Diaryofaquilter
Home House Foundation Paperpiecing pattern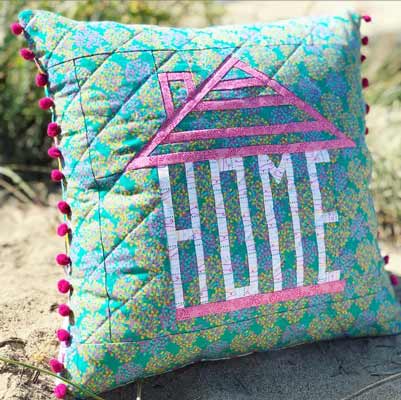 This pattern is great for quilts, but also for house decor like pillows, with its beautiful motif of a minimalistic house depiction made of stacked rectangles in different sizes that represent the roof, then big letters saying home as the house walls, and another rectangle under the letters as the house foundation.
by Unicorn Harts Payhip
"Hearts and Rainbows" Foundation Paperpieced pattern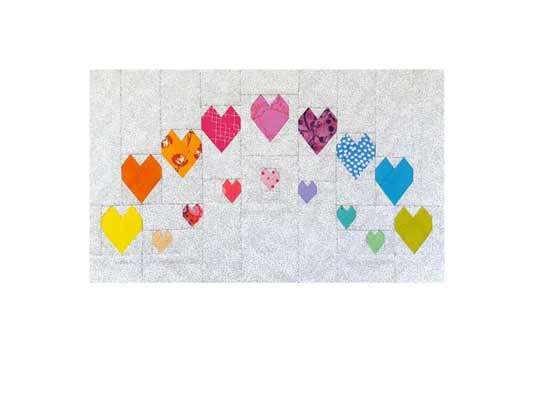 For those of you who love all things cute and romantic, here comes a wonderful pattern that combines rainbows and hearts, as it features nine polygonal hearts in different colors of the rainbow set next to each other to form an arch, with matching smaller hearts set just under them in the same manner.
by Unicorn Harts Payhip
Candy Cat Foundation paper pieced pattern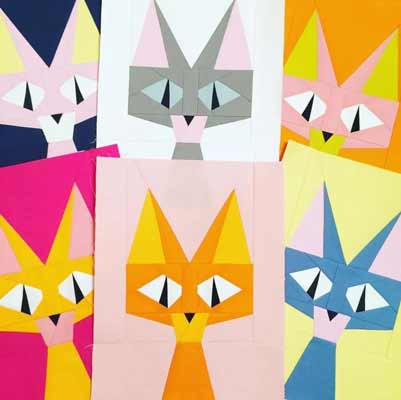 The modern version of a royal cat from the days of the pharaohs, that's what you could call the main motif of this pattern, a cat portrait made of polygons in four different colors, one for the mouth and the inside of the ears, the other for the cat eyes, the third for the cat fur, and the fourth for the pupils and the nose.
by Unicorn Harts Payhip
Beginner-Friendly Foundation Paper Piecing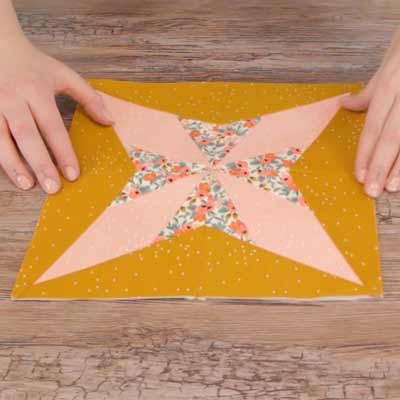 This star shaped modern paper pieced pattern is ideal for all those who just began their quilting journey and haven't yet had the chance to try paper piecing, a pattern that will ease them into it as it helps them make a block with a big four-point star in the center, with four contrasting triangles on the star's inner corners that point to the core of the shape.
by Weallsew
Butterfly Paper Piecing Pattern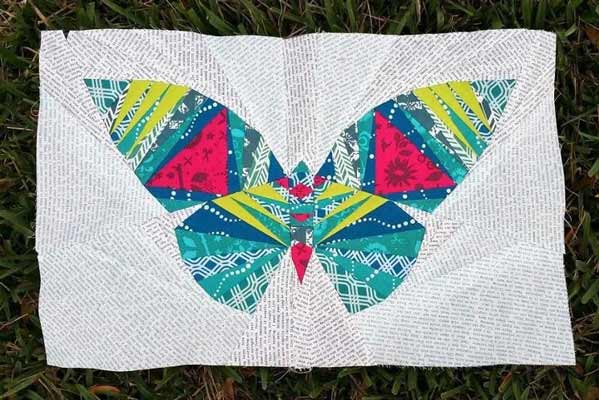 The paper piecing pattern you can find here is magnificent, gorgeous, and best of all, super easy to make since it comprises many polygons of all kinds of fabrics you have, joined together in a mosaic style to create a fine silhouette of a butterfly with its wings spread out over the single color bright background.
by Sewingwithscraps
Fox quilt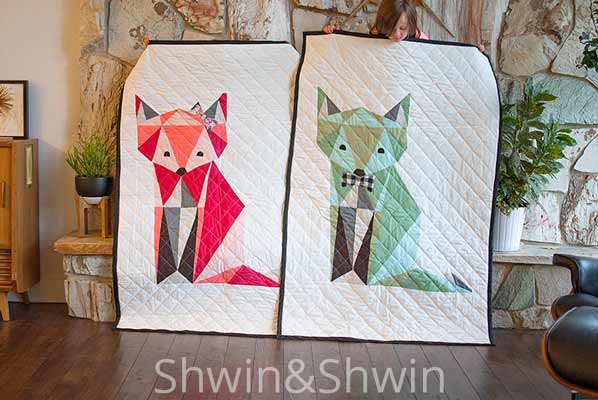 You'll want this quilt on your bed, couch, and even your porch furniture because it's so awesome, with its pure white base, diagonal stitches that form diamonds as they intersect, and a sweet depiction of a cute mosaic fox sitting and looking sideways into you with its irresistible tiny eyes
by Shwinandshwin
Slytherin House Crest Letters Applique Pattern
use the code FREE2019 at the checkout to get the price down to zero.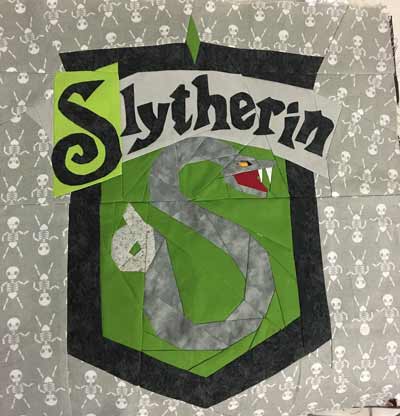 This one is not for muggles, but it is for those who appreciate the values of the famous Hogwarts house Slytherin, since it bears its crest of a snake in an S shape on a green background, writing above it stating the house name, and a black frame around the insignia.
Pattern here: Pitchersboutique
more licensed designs here:Pitchersboutique
Forest woodpecker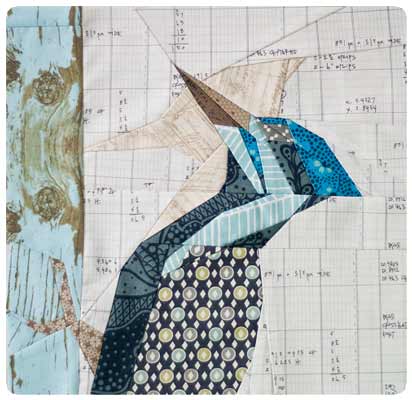 Those of you who had the privilege to see a woodpecker in the wilderness know how majestic it is, so you'll know this pattern is just as brilliant, with a mosaic motif of a beautiful blue woodpecker holding onto a tree, getting ready to do the thing they're best at, peck it like a little power drill.
by Jednoiglec
Last minute Christmas Sampler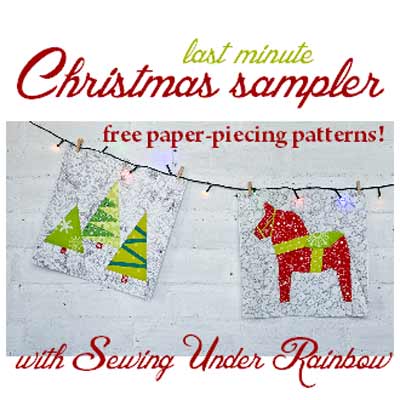 No need to panic if you didn't get the Christmas decorations ready, here's a pattern that will come to your aid and help you whip up some blocks with holiday season motifs like the Christmas tree, the Nutcracker, reindeer, snowflakes, and more that you can attach to a thread and use as buntings to up the jolly in your home in a flash.
by Jednoiglec
Celebration Wreath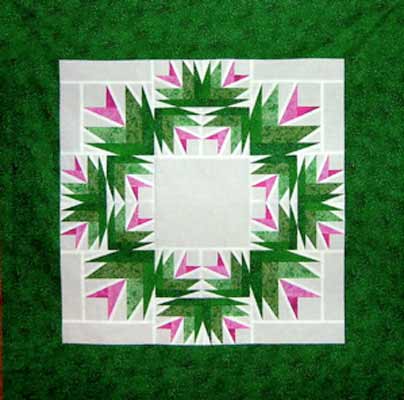 When you see that green wreath at the front door, you immediately feel the special warmth of Christmas time, and now you can feel that same emotion when you look at the quilt that you whipped up with this block pattern that has a lovely diamond shape wreath made of green triangles that resemble leaves, and some purple ones that represent the ribbons all over the greens.
More free patterns by Carol Doak here Caroldoak
Pattern: Caroldoak
Have-A-Heart Block Designs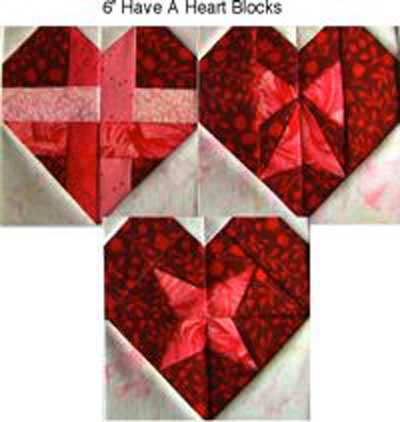 Love is in the air, says this block pattern that features a beautiful big heart with three different motifs you can choose from sitting inside the heart, one of them being a sawtooth star, the other a little bow or a bell depending on how you look at it, and the third one is a shape of a tilted four-point star.
by Caroldoak
Pattern: Caroldoak
Tool Caddy for Your Paper Piecing Tools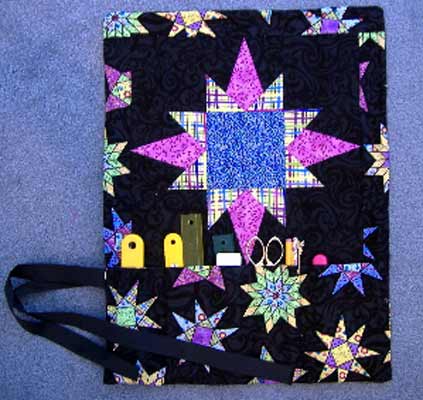 Store your paper piecing tools in style with a bag that has multiple pockets for items like scissors, pins, rulers, or rotary cutters, a big pocket for the fabrics you will be using, and a shoulder strap for easier transportation, all made from, you guessed it, paper pieced blocks with stars, squares, and diamonds on them.
by Caroldoak
Pattern: Caroldoak
I hope you enjoyed this collection of free foundation paper piecing patterns and paper piecing quilt patterns. Pop up in the comments below to tell me which one is your favorite and which one of these free printable paper piecing templates you would like to try. I'll go first – I love butterflies, so obviously this was love from first stitch.
Get your creative juices flowing and piece one of the patterns – you can then turn it into a pouch, cushion, mug rug, wall hanging or even incorporate it in your outfits. I can easily imagine the butterflies on a bodice of a little girl's dress or on an apron bib.
Your paper piecing-arsenal is now full enough to last you for at least a few years if you decide to keep all of the ones from this list. Do you already have your favorite? Share your experiences with them in the comments below so we can all hear how they turned out for you. And be sure to subscribe to the mailing list to receive the freshest content of this kind as soon as we dish it out. Enjoy your paper-piecing projects!