Blog
Soybean Paper Sushi
This soy paper sushi is made in under 5 minutes with the help of frozen microwaveable rice. Let me show you how to make these easy soy paper sushi rolls. It's the perfect date night in or family friendly at home sushi night!
In our house we crave sushi rolls weekly and have been loving these homemade hand rolls made with soy paper.
The kids love that it's a non seaweed option and they can fill them with a variety of fillings and even make their own.
The best part about this recipe is it's versatility. You can use any sushi wrap that you prefer and change up the fillings to best fit your taste buds.
Typical homemade sushi calls for sushi rice. But I have a little secret up my sleeve.
This recipe takes less than 5 minutes with the help of microwave rice. I have perfected the 5 minute sushi rice and it's a quick and easy alternative to homemade sushi rice made in the Instant Pot or rice cooker.
If you are looking for a quick, easy, gluten free, healthy dinner or lunch recipe this is it! So here are a few questions you may have.
What is soy paper or soy wrap:
If you want an alternative to seaweed nori try rice paper or soy paper. It's delicate thinness makes for the perfect nori substitute.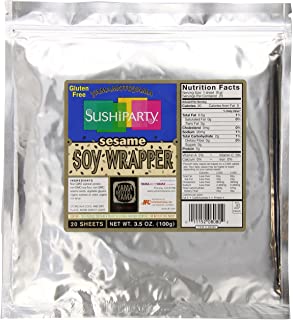 Filling Options:
These are some delicious filling options that are perfect for hand rolls.
Shrimp Tempura: I love the pre-made frozen shrimp tempura for this recipe. You can find these at most grocery stores in the frozen section.
Spicy Crab: Use an imitation crab or fresh crab. I add a little bit of spicy mayo and mix it to combine.
Spicy Tuna: Use sushi grade ahi and mix with Sriracha.
Salmon: Use sushi grade salmon.
Avocado: Cut fresh, ripe avocado into thin slices. Make sure they aren't too thick.
Julienne Carrots: Julienne carrots add a crunchy freshness to any roll.
Julienne Cucumber: I prefer to use english cucumber without the seeds.
Julienne Mango: Fresh, ripe mango can add a little sweetness to the hand rolls.
Cream Cheese: Cream cheese is a great combination with spicy tuna or salmon.
Jalapeno: Add a little spiciness with some fresh jalapeno.
Topping Options:
Spicy Mayo: Add to crab filling or drizzle it on top of your rolls.
Ponzu Sauce: I love ponzu for dipping sauce. Try a spicy ponzu by mixing the ponzu with some Sriracha.
Soy Sauce: I love reduced sodium soy sauce or braggs aminos for a gluten free soy sauce version.
Oyster Sauce: Drizzle a little on top of your rolls for a sweet addition.
Hand Roll Variations: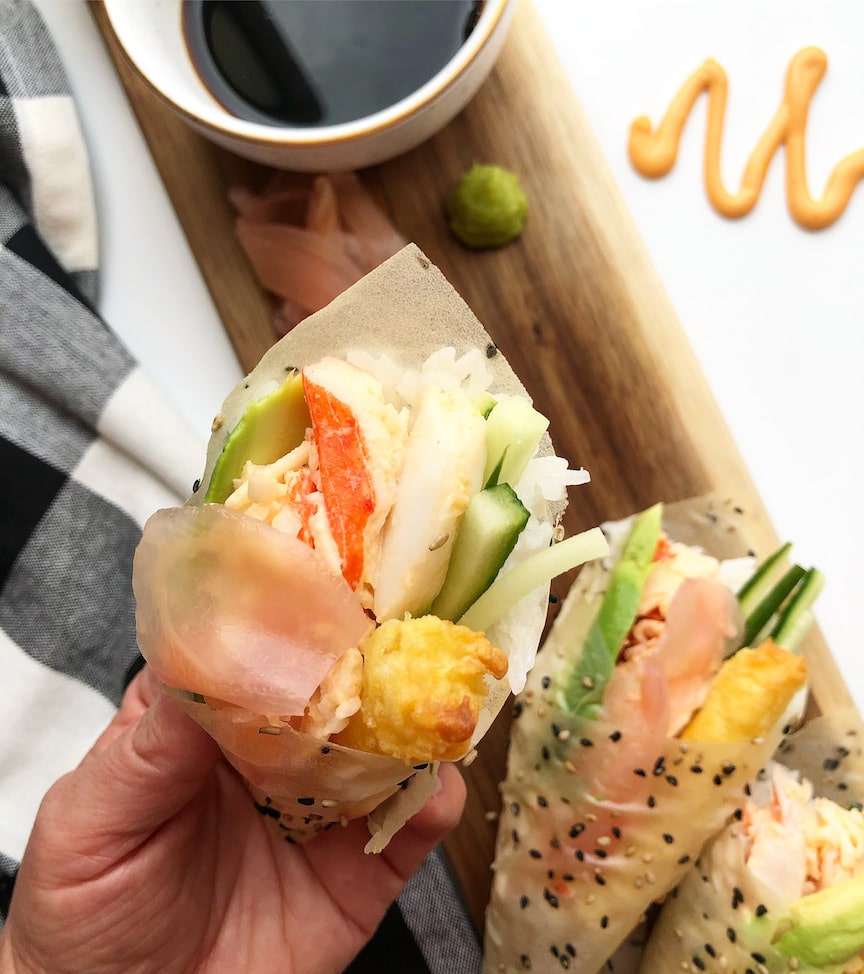 If you need some inspiration for different hand rolls here are some delicious flavor variations to try out.
Spicy Tuna, Shrimp Tempura, Spicy Crab, Avocado
Salmon, Cream Cheese
Spicy Tuna, Julienne Mango, Jalapeno, Cream Cheese
Spicy Crab, Avocado, Julienne Cucumber
5 Minute Sushi Rice:
I know I spoke a little about this earlier, but this your big time saver part of the recipe. And it's really easy to make.
This 5 minute sushi rice is made with microwaveable rice. Add some seasoned rice vinegar after it is cooked and toss until it becomes sticky.
You can also make homemade sushi rice in the Instant Pot or rice cooker if you would like but I can't really tell any difference!
How To Make Soy Paper Sushi Hand Rolls:
Step 1: Make the sushi rice with microwave frozen rice and rice vinegar.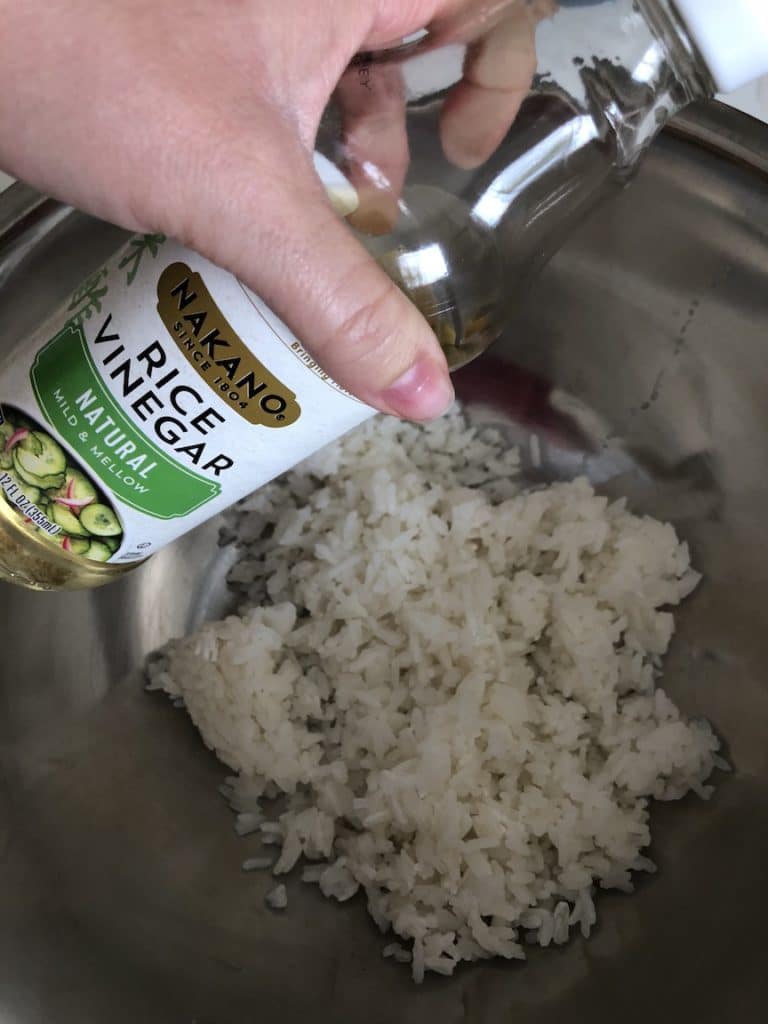 Step 2: Lay out the soy paper and cut in half lengthwise. Place the sesame seed side down. Place a small amount (about a golf ball size amount of sushi rice in the left hand corner of the soy wrapper.
Wet your hands with water to prevent the rice from sticking to your hands and lightly press the rice down into a thin layer.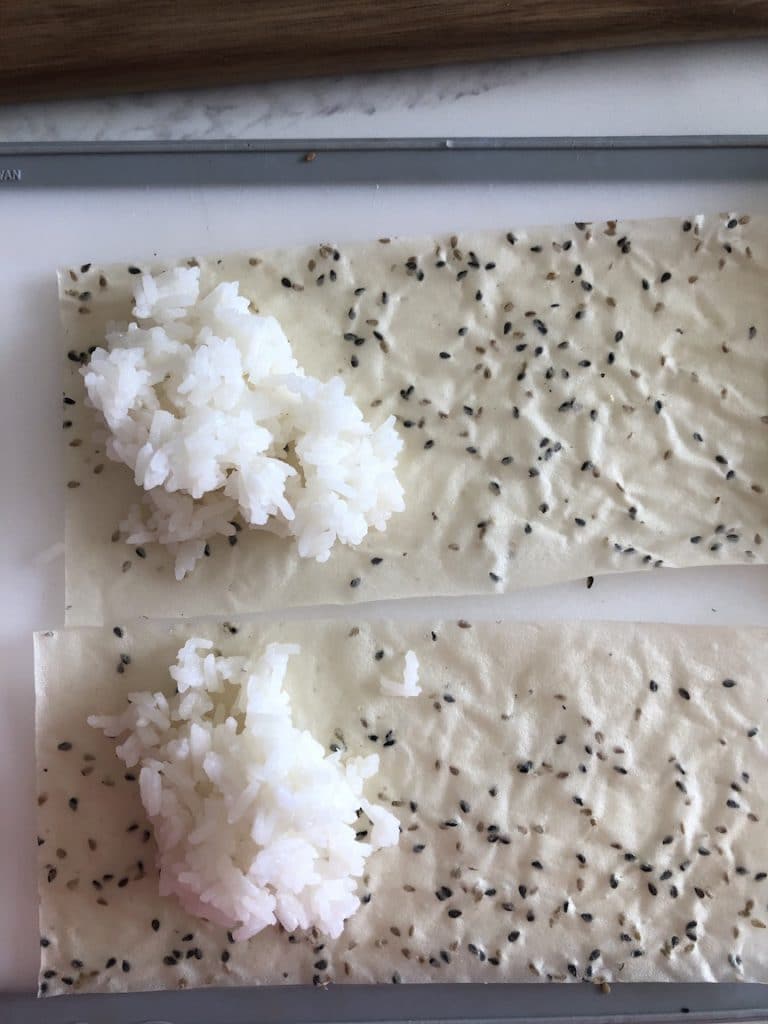 Step 3: Place your filling items on top of the sushi rice in a diagonal. Be careful not to overfill.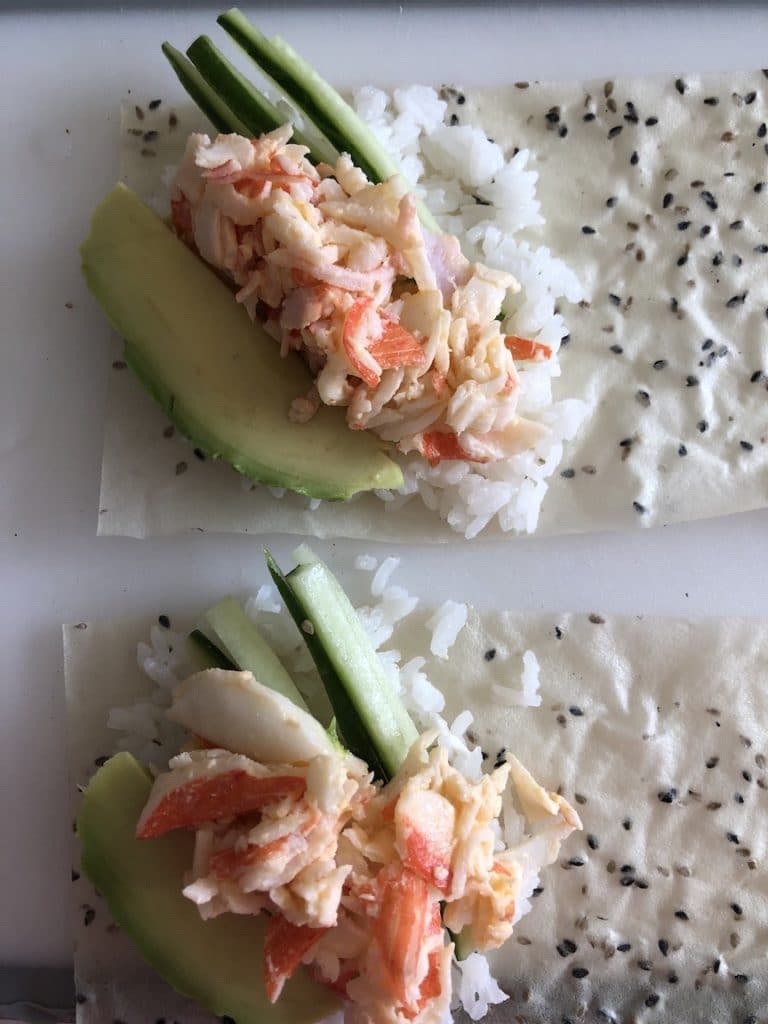 Step 4: Take the bottom left corner and start to roll to the right hand side of the filling. Roll tightly into a cone shape.
What To Serve With Sushi Hand Rolls:
Round out these hand rolls with some other delicious Asian inspired recipes.
Asian Pork Ribs In Instant Pot
Crunchy Asian Chicken Tacos
Instant Pot Pork Bao Buns
Korean Air Fryer Fried Chicken Sandwich
Soy Paper Sushi Hand Roll Recipe: