Blog
Best Watercolor Paper
When it comes to expressing your creativity with watercolors, using any kind of material just will not do. Specifically designed to hold watercolor paints, watercolor paper produces the best results when working with this type of material. With so many manufacturers offering this type of material, though, it can be difficult to choose the right one that's why we will review five of the best watercolor papers on the market.
Things to Consider Before Buying Watercolor Paper
Understanding Pressure
It's important to understand that the amount of pressure applied during the manufactury process determines a paper's surface type. Hot-pressed paper receives the most compression, cold-pressed paper received a medium level of compression and rough paper receives very little compression. The characteristics of each method are the following:
Hot-Pressed
Achieving a great deal of pressure, a hot press produces very smooth and imperfection-free paper. Apart from being smooth, hot-pressed paper is very tough, allowing very little pigment to penetrate the surface. As a result, it's well-suited for fine detail techniques such as ink and pencil but it doesn't allow wet-on-wet application or diffusion, making it less-than-optimal for watercolors.
Cold-Pressed
Using a cold press, manufacturers apply a moderate amount of pressure to the paper sheets, resulting in a more textured surface. This type of surface allows some pigment to penetrate it. A diffused wet-into-wet application can be achieved with this type of material but it allows some bleeding, making control difficult. In any case, cold-pressed material lends itself well to various advanced watercolor techniques.
Rough
Featuring a very slight level of compression, rough water color paper is the most textured of the three. It allows a lot of pigment to penetrate its fibers. This makes the wet-on-wet application very effective. Also, this type of surface is ideal for advanced techniques such as dry brushing, which can be great for creating scenery foliage. A downside of this paper is that it's difficult to wash for editing.
Watercolor Paper Presentations
As you probably learned from our reviews, watercolor paper comes in different presentations. Up next, I will go over the four most common ones:
Blocks
One of the most common and well-liked watercolor paper presentations is the block. A watercolor paper block is a pile of sheets. These sheets are bound together by the sides using a soft glue. As a result, the sheets are nice and straight when you pull them out of the block.
This presentation provides enough thickness and support to allow you to work directly on the top sheet without it buckling or wrinkling. After it's dry, you can easily pull the sheet in order to frame it, save it in a folder or anything else. These blocks are practical and convenient but they also tend to be somewhat expensive.
Pads
If you are an enthusiast of painting scenery or you simply love the idea of outdoor painting, a watercolor painting paper pad may be a good choice. Normally, this type of product is very lightweight and portable, making it a practical choice for the aforementioned purposes.
Pads are often made of students' quality paper. This type of material is affordable and lightweight but it is still textured and high-quality enough to handle watercolor paint with no problems.
Often, paper pads are tape-bound, making it easy to pull out individual sheets at any moment. Another great option is the wire-bound pad as it allows you to flip over an existing painting in order to work on another one.
Sheets and Rolls
If affordability and convenience are at the top of your list, watercolor paper sheets may be something to look into. Typically, they can be purchased individually or in a pack. These sheets are very lightweight and, as a result, they require some stretching before use in order to prevent them from warping or buckling after the paint is applied to them. While the process of stretching the sheets is not difficult, it can be somewhat annoying and inconvenient for some painters.
If we are talking about Artists' quality paper, normally, it's not possible to purchase it in individual sheets but it can be bought in rolls. This can save you a lot of money in the long run. This rolled-up paper will also require you to do some stretching before it can be properly used.
Boards
Composed of sheets of watercolor paper and rigid board, this is a good alternative to blocks. Like said blocks, boards offer enough solidity and resistance for you to work directly on them without stretching the paper. Because it is glued to the rigid board, it will not wrinkle, warp or decay as the watercolor paint dries. As a result, paper boards are a good alternative to the more expensive paper blocks.
Things to Consider Before Buying Watercolor Paper
The next time you are out looking at products of this kind, be sure to carefully analyze their characteristics and features. Take the following into account:
Quality
As with everything, it's important to look at the quality of the different products out there. When it comes to this type of product, there are two main quality levels: students' quality and artists' quality. As you can probably imagine, students' quality paper is more affordable but less high-quality than artists' quality paper. In addition to being thicker, more textured, more dynamic and overall more durable, artists' quality paper doesn't have acid or any other toxic substances in it. As a result, it will not become yellow or stained over time. Here is an example of how the watercolor paper can perform with oil paints.
Manufacturing Method
Essentially, there are three main methods by which this material is manufactured: by hand, by mold and by machine. Depending on its method of production, the quality of a paper will vary. Normally, hand-made paper enjoys the highest quality of the three but it tends to present the most imperfections. Second in quality comes mold-made paper. It presents fewer imperfections than its hand-made counterpart. Lastly, machine-made paper tends to have the lowest quality but the least imperfections.
GSM (Weight)
Paper weight is measured in GSM (grams per square meter). The more GSM a paper has, the heavier and thicker it is. You can get a better idea by considering that office paper tends to be 90 to 120 GSM. Meanwhile, art paper tends to be anywhere between 300 and 640 GSM.
Texture
Texture is more of a subjective matter when it comes to paper. When it comes down to it, the preference for a certain type of texture relies upon personal preferences and painting styles.
Regarding watercolor paper specifically, there are three main types of texture: hot-pressed, cold-pressed and rough. Hot-pressed paper has the smoothest surface. In addition, it's the hardest and most resistant. Cold-pressed paper, meanwhile, has a medium level of roughness and texture. Finally, the rough paper has a pronounced texture, making it very suitable for washes and luminous paints.
Tint
Some level of tint is added to many watercolor paper products to make them look warmer and more inviting than they would be otherwise. It can also help the material reflect the light in a pleasant manner. Normally, this tint is a creamy white but this can vary according to the design of the material.
The Best Watercolor Paper: Table of the Top Five Brands
This guide will go over five of the best watercolor paper on the market. It also will provide useful information about this material in general. Hopefully, this knowledge will help you choose the perfect product for your needs.
ImageProduct
Arches Watercolor Paper Block, 300 lb
High-quality and efficient
10 sheets block, 12×16 inches
Holds up to intense work − 300 lb / 640 GSM
Check Price
Arches Watercolor Paper Pad (12 Pack)
Smooth and imperfection-free
Compact 12 sheets pad, 9×12 inches
Great light reflectivity
Check Price
Arches Hot Press Watercolor Paper Block
Very stable and absorbent
20 sheets block, 10×14 inches
Allows continuous edits without becoming warped
Check Price
Winsor & Newton Professional Watercolor Paper Block
Helps preserve the natural transparency of watercolor paints
20 sheets block, 9×12 inches
Slightly textured
Check Price
Canson Montval Watercolor Pad
Surface withstands scraping, erasing and repeated washes
12 sheets pad, 15×20 inches
Very affordable
Check Price
1. Arches Watercolor Block, 300 lb – Best Watercolor Paper Overall
Being one of the most well-known art supply manufacturers in the world, Arches produces a wide range of watercolor paper types. High-quality and efficient, its 300-pound block is one of the most popular and successful. Thick, slightly textured, and very high in quality, this product is durable and reliable. With impressive weight and an affordable price, this product by Arches can be great for producing advanced artworks.
Unpacking and First Impressions
The paper that I have in front of me is Arches Watercolor Paper Block, which means that it is bound on all four edges with just a small slit in the top that you can slip a palette knife in and slice off the top sheet. But this exact paper is also available in pads as well as full sheets.
I'm not that familiar with the brand itself, but from what I read, they've been making watercolor paper for like a few hundred years. Each color of the package basically represents a different level of or a different type of paper. I love the green one and turquoise (300 lbs paper), even though they have some disadvantages and advantages. It's 12 and 16 inches, which is 30 on 40 centimeters. This one has 10 sheets in it. Let's just open it up and see what we got inside.
The paper feels all fancy and I opened it up. The first page is almost like the art blocks that I saw. And it's actually good because it guides you on how to use it. If you look up at the block, you will see they're stuck together. This is glue. And in order to get to the next page, you actually have to peel it off. You need to use something sharp and be very careful.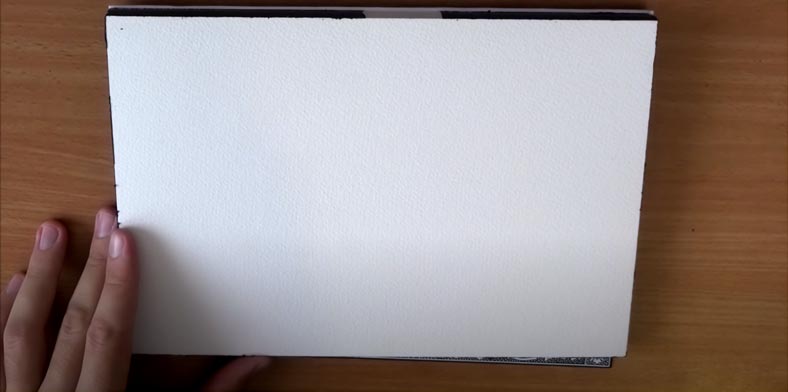 So now we're looking up close and you can see the texture is quite rough. I like it, but it's good for some things and less suitable for others. If you like to get a lot of sharp edges, then this can be quite a challenge.
Performance
So you can see here if you follow along the lines, the texture really gets into. I like that effect. But don't even know how to define the character that it gives to your artwork.
What I love about this paper aside from the texture is how thick it is and how it allows absorbing like tons of layers of paint. It just soaks paint up and really well, and it doesn't get warped or crumpled because it's glued. It's not foolproof, like, just because it's glued, but it really helps to absorb the colors in a way that doesn't completely warp the paper.
One more thing I wanted to say. Because the paper is so nice and thick it takes some time for the color to be absorbed. So what you can do is basically lay down a layer, wait for a while. I'll do some other things and come back and it's still wet. It's just amazing. And for me, coming from using a really lame paper and comparison, this was like a really nice thing to go into.
What you will notice is around the edges is roughy texture. The texture is exactly how pain works on the surface, how the texture affects the lines that you do. And I find that really the more I go down with the angle of the brush, the more the texture shows, which is, it makes sense. This is actually a technique for getting the texture of the paper to show. If I go ahead with the tip of the brush and you will see a smooth line. But the more I lower the angle, you can see that texture. You can use this to create for example a leafy effect.
Because this paper is so nice, you can just go ahead and it soaks right into the already existing color, good watercolor papers should be able to do that.
Pros and Cons
Final Thoughts
Despite not being one of the most expensive products of its kind, the Arches Acid-Free Cold-Press Watercolor Block boasts a very high level of quality. Because it's heavy and cold-pressed, it is capable of withstanding prolonged use. This allows it to absorb water efficiently, allowing for a quick dry. The product's material qualities allow you to really go hard on it, painting and repainting until you reach the desired results. In fact, I learned that it will resist various washes without showing signs of deterioration.
This art block is very solid and stable. Because it helps absorb water more effectively, its weight makes it even more rigid and resistant. Its sheets are carefully and precisely glued together at just the right spot, preventing accidental shedding that could ruin a work in progress.
2. Best Paper for Watercolor Pencils − Arches Watercolor Paper Pad (12 Pack)
Hot-pressed and mold-made, the Arches Watercolor Paper Pad is remarkably smooth watercolor paper and imperfection-free. The fact that it has almost no tooth allows it to produce fine detail, making this a great choice for portraits and smooth washes alike. This material also works very well with watercolor pencils because it has the right amount of absorption, allowing you to create small details without bleeding or blotching.
Unpacking and First Impressions
Now keep in mind that the blocks do contain 20 or 10 sheets of paper and the pads have 12 sheets. It kind of works out a little bit if you like the convenience of working on a block so that you don't have to tape your paper down then it might be worth it for you.
But in general I think I like the pads over the sheets better because I often worry about how the sizing underneath could be affected if you'd like to work in a lot of heavy washes. Which are the point where the paper starts to buckle a little bit and that will happen with 140 pound paper. Then you are dampening the paper the sheet underneath as well some and maybe even the sheet underneath that.
I'm concerned about how dampening it letting it dry can affect the sizing over time to the to the sheets underneath. Let's get into some of the specific specifications to this paper. This is 140 pound or 300 GSM and it is 100% pure cotton, which is excellent cotton paper is the best quality watercolour paper that you can absolutely get. And I always recommend it for the serious artists.
This is a 140 pound or 300 GSM, and it is 100% pure cotton, which is excellent. Cotton paper is the best quality watercolor paper that you can absolutely get. And I always recommend it for the serious artists. Some of the claims on this paper is that it's natural white cylinder mold, the same French paper mill since 1492 it's acid free. The paper is ideal for watercolor wash, ink, acrylics, drawing, and printmaking strong enough to handle multiple washes of color, mask fluid, scrubbing and artists tape without damage. The surface is gelatin sized gives each fiber a consistent feel and absorbency.
Performance
Because it is made on a traditional cylinder mold, this art supply product features interwoven fibers that result in greater durability and resistance to tearing. In addition, this mold-base manufacturing procedure prevents the material from losing strength over time.
One of the greatest advantages of hot-pressed paper is how resilient and resistant it is. Being remarkably strong, it does not warp or cockle even if you apply large amounts of water to it. This technique prevents it from becoming damaged when you use rough techniques on it.
I found the drying time is incredibly quick and slightly uneven. To me, the drying looked a little bit more like a student grade kind of wood pulp or a cellulose fiber paper. I was a little bit disappointed in how the paint dried on the paper and something else that I wanted to mention is the layers.
I felt like I could not get as many layers on this paper as I could on their traditional cold press paper. Their cold press has a nice texture, and it really accepts the paint very well and allows you to layer the paint and glaze pretty much indefinitely. My issue with this paper was that I found that it seemed to gum up quite a bit, that I could only get very limited layers before I noticed that it was sitting on the surface of the paper in somewhat of a chalky like way.
And I have to say that I've never produced a piece of artwork with this paper for its intended purpose of watercolor that I've been truly happy with. I've always noticed that there's been some unevenness, some inconsistencies that delicacy to the surface.
I felt like I couldn't get enough layers around the shadowed areas, even though I used proper technique and I wet out the area first and then added some of the shadows in. I still felt like I got hard lines and, that's not typical for me. You know, I'm not a beginner at watercolors and I know how to avoid that problem. But again, the way the paper seems to dry and the paint seems to sit on the top.
Pros and Cons
Final Thoughts
In terms of its manufacturing process, the Arches Watercolor Paper Pad is up there with the best. The manufacturer's choice of using 100% cotton and pure spring water is a good one. Despite being hot-pressed to perfect smoothness, its sheets have a certain amount of grainy texture that undoubtedly adds to its looks and feels.
3. Best Hot Press Paper for Watercolor Painting − Arches Hot Press Watercolor Paper Block
Another remarkable product by the renowned Arches, the Hot Press Paper presents the high-quality manufacture that characterizes the brand. Unlike the previously-described Arches product, this block for art is especially well-suited for producing portraits. The fact that each sheet is produced on a cylinder mold only adds to this, resulting in remarkably uniformity and stability. Despite not being the heaviest type of paper out there, the product is resistant, durable and resilient.
Unpacking and First Impressions
The Arches Watercolor Paper Pad is up there with the best. The manufacturer's choice of using 100% cotton and pure spring water is a good one. Despite being hot-pressed to perfect smoothness, its sheets have a certain amount of grainy texture that undoubtedly adds to its looks and feels.
The paper dries quickly and evenly, with no cockling or warping. It also has great resistance to fading over time.
Performance
One of the best things we have found with this type of paper is that it feels so natural to work on. There are no distractions or issues in terms of handling, and the way it holds the paint is just incredible. It has a really nice absorbency rate which means you can use different kinds of techniques without any repercussions whatsoever. This makes it very versatile indeed for artists who want to expand their range into something new or try out some watercolor washes!
Many people will like the hot press because there's nothing like seeing how clean your painting looks once it's dry! The color saturation also seems much better than other types (cold-pressed) but still; allowing plenty of time before turning them over to make sure the painting is completely finished.
Made from long, tough fibers of the purest cotton, the Arches Hot Press Watercolor Paper does not warp or bend whenever it comes in contact with water. Its absorbancy is remarkably quick and efficient, allowing you to apply several strokes of paint without color bleed or warping of any kind.
Consequently, this block is great for artists who paint quickly and enjoy continuously editing their work. Due to its quick-dry and high-absorption capabilities, it is very useful for quick sketching.
Pros and Cons
Final Thoughts
Like other Arches products, this block for watercolor painting is treated with a special natural gelatin substance that adds to its durability. Unfortunately, due to its texture, Arches paper does not handle glue very well. As a result, the sheets that make this block may peel off accidentally with some level of ease. This can be disruptive and inconvenient, particularly when you don't have any other surface that you can use to hold the paper rigidly and stably. Even worse, an inconvenience of this kind can cause you to lose or damage completed works.
This process enables the paper to resist scratches and rough techniques without tearing or linting. Apart from making it more resistant, this type of internal sizing prevents water and paint from thoroughly penetrating the material, ensuring durability and permanency of colors.
4. Best Cold Press Watercolor Paper − Winsor & Newton Professional Watercolor Paper Block
Unpacking and First Impressions
The best cold press watercolor block, according to many artists is this one by Winsor & Newton! It has a very smooth surface that allows for some interesting techniques with different paints. By using washes of different colors on top of each other, you can get fun effects like making something look glittery or iridescent.
This type is also great if you are planning on doing anything more detailed than broad sweeps because it keeps the details really well! However, be aware that these types of papers have less tooth so they aren't as good at holding on to your pigment without rushing into them.
Performance
One of the first things that you will notice about the Winsor & Newton Paper is that, despite its opaque tint, it reflects the light very well. Its light-grain texture helps retain water without creating blotches of pigment. As a result, this material is fantastic when it comes to maintaining the semi-transparent quality of watercolor paints. The material's light-reflecting properties also help conserve the pigment's brightness and vividness for a long time.
One downside to this type of paper is that it takes quite a bit of time to dry completely, so you'll need to give yourself plenty of lead time before turning your paintings over. However, the upside is that the colors are incredibly vibrant and rich when they do dry – something that definitely cannot be said for all watercolor papers!
Some artists might also find that the absorbency of this paper is a bit too much for their liking, as it can quickly soak up all the moisture and make it difficult to continue working on your painting.
That being said, it's also important to keep in mind that this type of watercolor block is not meant for beginners.
Pros and Cons
Final Thoughts
Despite not being hot-pressed, the sheets in this block are remarkably strong and resilient. To be sure, a part of that is due to the high-quality pulp that is used to manufacture them. Producing long and thick fibers when dry, this base material is perfectly conducive to the type of colors and details that can be achieved using watercolors. The second part of what makes this material so resilient is its reinforcement treatment. Before it's ready to be used, the manufacturers submerge each sheet of paper in a bath of pure natural gelatin designed to increase durability and toughness.
Not a lot of negative things can be said about the Winsor & Newton Professional Watercolor Paper. It should be noted that, unfortunately, this product is somewhat expensive in comparison to others of its kind. This is even more notorious when you consider that each block only has 20 sheets. Considering that they are 300-GSM and of very high quality, that price no longer seems unreasonable. For that reason, this block can be a good choice for serious artists who enjoy a textured, rich material to work on.
5. Best Watercolor Paper for Beginners − Canson Montval Watercolor Pad
Acid-free and low in grain, this 15 x 20-inch, cold-pressed, 140-pound paper product may be a good option for beginners who want to practice extensively while on a budget.
Unpacking and First Impressions
The first thing that you will notice about this product is its smooth texture with a medium to heavy weight, which allows it to retain water quite well yet still be receptive enough for detail work and cleaning of brushes.
Made of high-quality cellulose, that makes the Canson Montval Pad is durable and resilient. For that reason, it is a fantastic option for watercolors and other wet media. Even though it's considered a students' grade art supply, it has a surprisingly high level of quality that rivals that of some artists' grade products. Smooth, thick, and tough, the sheets in this pad can certainly help you create impressive artwork.
Performance
This watercolor paper is of high quality and works well for both experienced artists as well as those who are just beginning. Due to its size, this block makes a good choice for practicing techniques without wasting too much material or time on small details that may be difficult to manage at first.
The paper is very easy to use due to its slight tooth on the surface which provides some resistance when applying paint onto the surface. This feature has a lot more benefits than just making it easier for beginners to gain control over their brushstrokes; it also helps retain water colors' vibrancy while keeping every painting free from listing something, tearing, or damage caused by excess moisture absorption during storage.
To put that into perspective, one could say that these sheets have what you might call "self-healing" properties! They can be easily cut down to fit your needs without losing any of their quality.
One thing that some artists may find unappealing about the Canson Montval Watercolor Pad is that, if it's not properly stretched before being used, it will buckle and warp terribly. This can be frustrating and annoying when inspiration hits and you want to get to work before it fades away. At any rate, though, the paper is resistant and stable, allowing you to stretch it extensively without tearing it deforming it in any way.
Pros and Cons
Final Thoughts
If you ask me, I can say that the best thing about this Canson pad is how tough and resistant it is. No matter what type of technique you use on it, the paper will likely resist and maintain its structural integrity. It is capable of resisting several edits and added washes. This, combined with its affordability, makes this pad the best cheap watercolor paper for beginners.
In Conclusion
With everything on the table, it's easy to see why the five products featured on this list are so popular and well-liked. Versatile, efficient and boasting a very high level of quality, each and every one of these watercolor paper products can help you produce the best artwork possible. At the end of the day, though, it's up to you to decide which one is right for your particular needs. Hopefully, this guide will help you make a wise choice.
People Also Ask