Blog
Star Paper Lanterns
Share the love!
Create Stunning Paper Lanterns That Illuminate with Enchanting Star and Snowflake Cut-Outs!
I absolutely adore crafting paper lanterns! In fact, a couple of years ago, I made a paper lantern or luminary for each month of the year, and I even designed a delightful heart-shaped paper lantern. But now, as winter surrounds us with long, dark nights, it's the perfect time to brighten up our homes with paper lanterns that exude cheerfulness. And the best part? You can make these lanterns in various colors to suit any season. Imagine crafting red, white, and blue lanterns for the summer! So, let me walk you through the process of creating these stunning paper star lanterns!
Want to save this project? Enter your email below, and we'll send the project directly to your inbox.
See precisely how to create these beautiful paper star lanterns by watching the tutorial video below (or keep scrolling for a step-by-step photo tutorial):
Here are the star lanterns I crafted for the holiday season: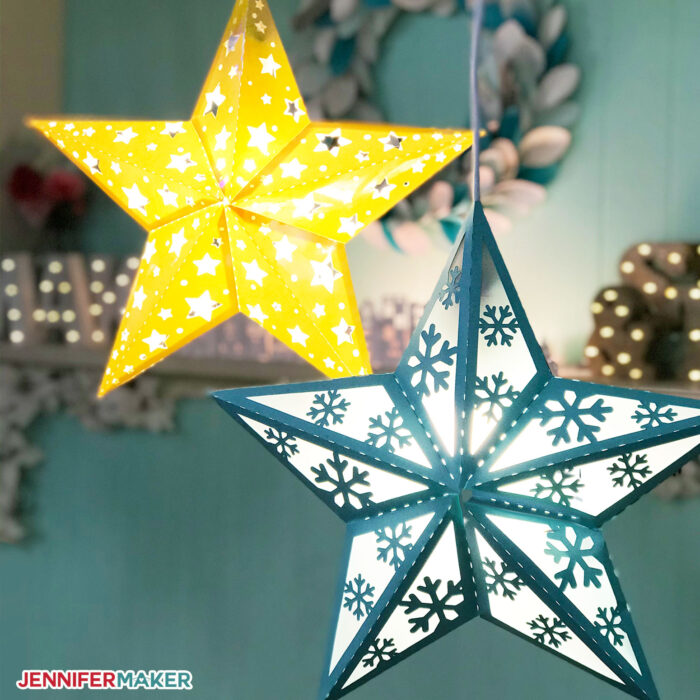 And here's a red, white, and blue paper star: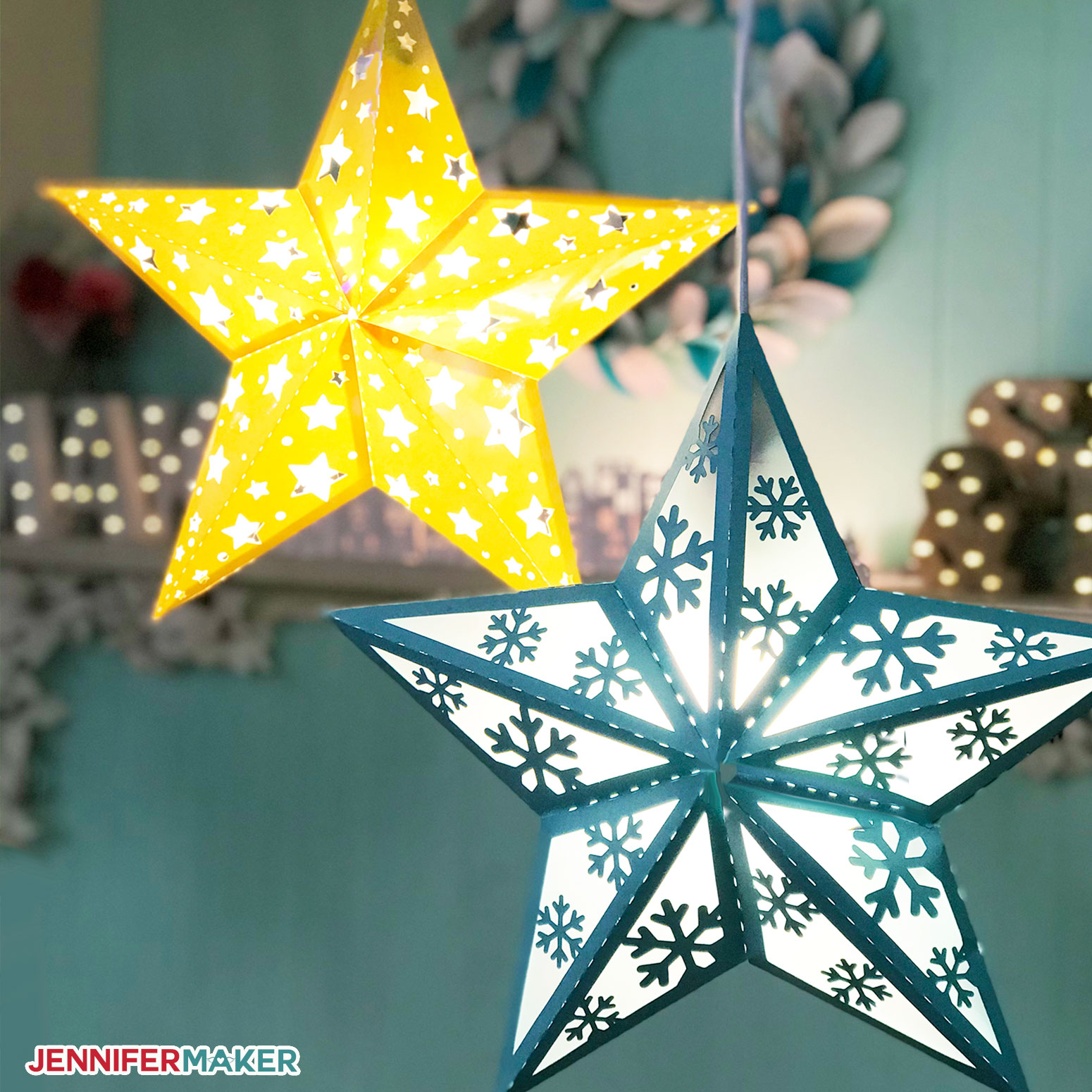 I'm eager to show you how to make paper star lanterns! Please note that this post contains some affiliate links for your convenience (which means if you make a purchase after clicking a link, I will earn a small commission, but it won't cost you a penny more)! Read my full disclosure policy.
Materials You'll Need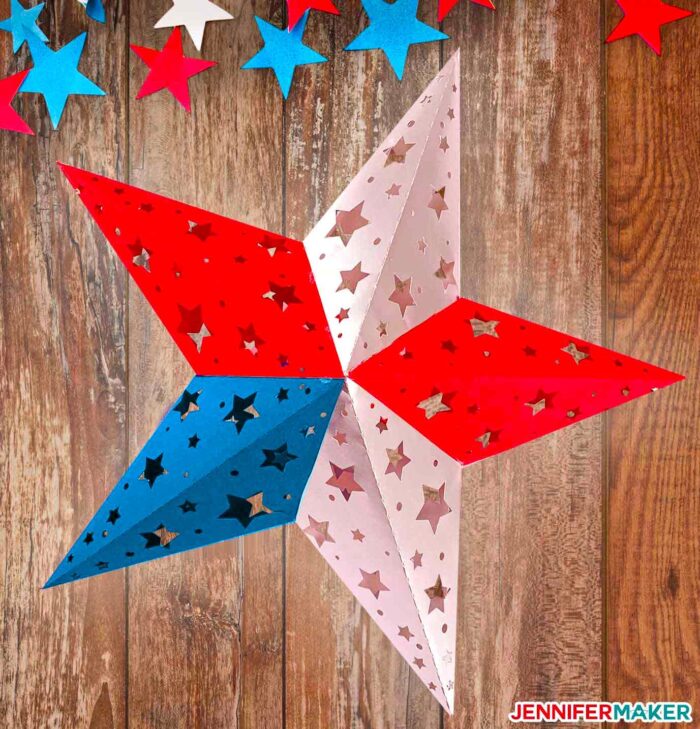 Step-by-Step Guide: How to Make Paper Star Lanterns
Step 1: Download the Paper Star Lantern Pattern
Start by downloading the free paper star lantern pattern (Design #168) from my free resource library. You can find the password to the library in the form at the bottom of this post.
Step 2: Cut Your Paper Star Lantern Pieces
You have the option to cut this paper star lantern using a craft knife. However, to speed things up, I recommend cutting it with a Cricut cutting machine. Let me walk you through how to do that!
Begin by uploading the paper star lantern SVG file to Cricut Design Space and placing it on your canvas. If you're unsure how to upload an SVG cut file to Cricut Design Space, I've created a helpful video training series. If you're using an iPhone or iPad, I've also provided instructions on how to download and upload SVG files to the Cricut Design Space app.
This is how my paper star lantern SVG cut file looks when uploaded to Cricut Design Space. Please note the size is 23.532 inches x 17.85 inches.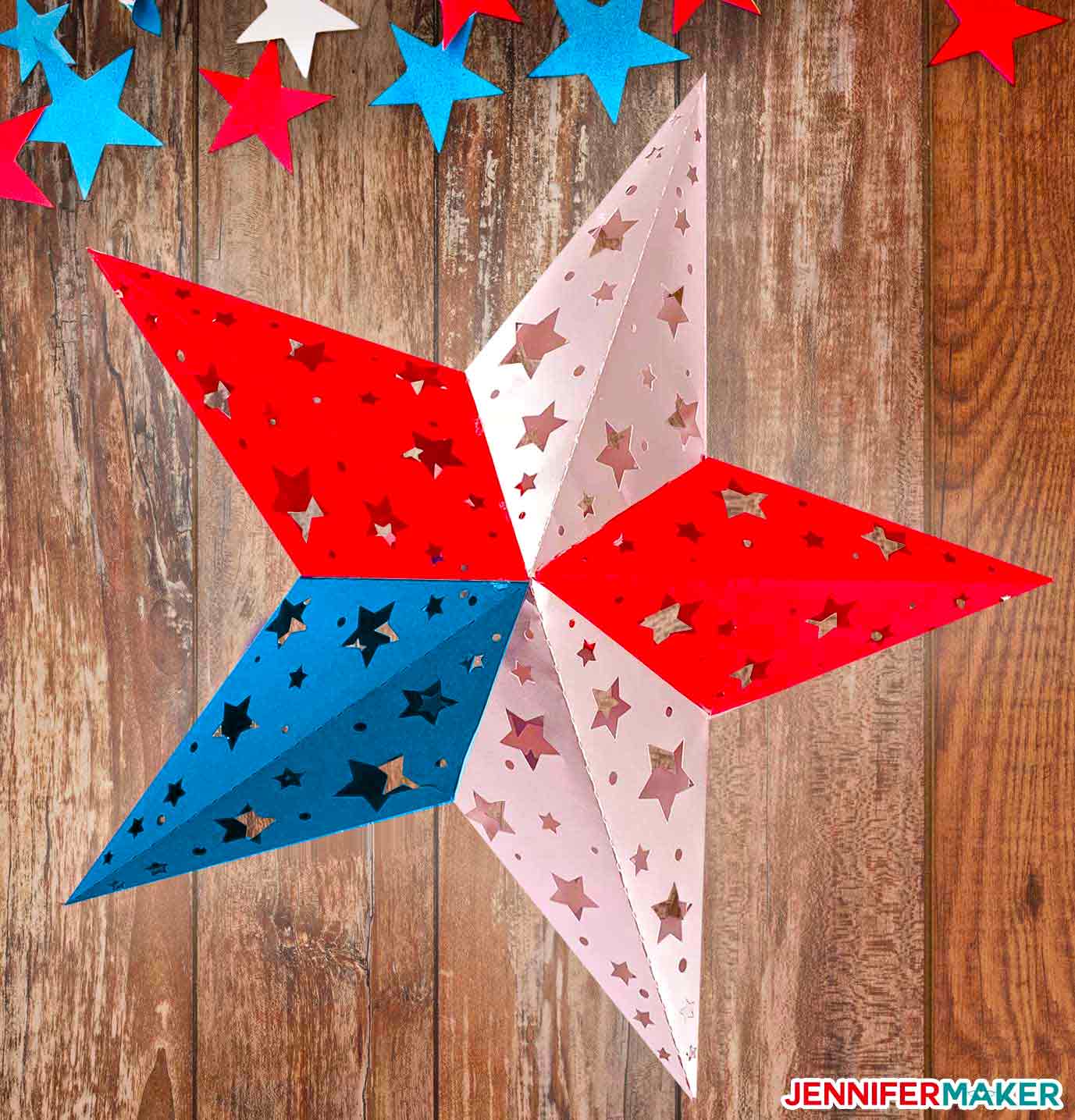 And here's what the paper star lantern with the snowflake SVG looks like in Cricut Design Space: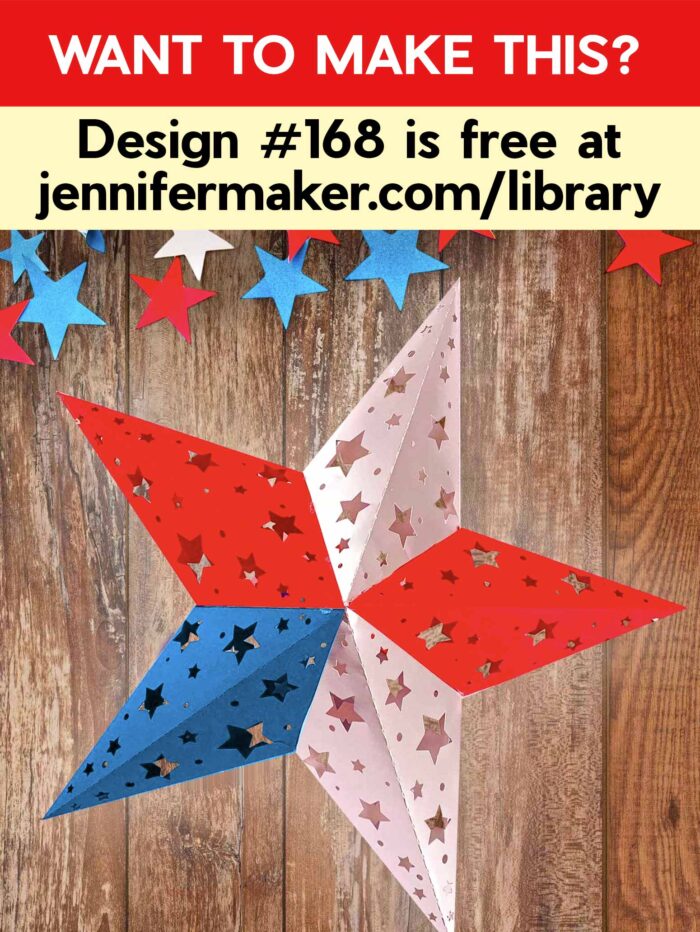 Decide whether you want to include the vellum layer. The vellum diffuses the light, creating a pleasant glow and concealing the light fixture inside. However, if you decide against using vellum, you'll have a more pronounced lighting effect with the stars and snowflakes cast on the walls. The vellum layer is optional for both paper star lanterns. If you choose not to include it, simply hide or delete that layer (the white triangles).
When you're ready, click "Make It." This project doesn't require scoring, grouping, or attaching!
For this project, I suggest using 100 lb. or 110 lb. cardstock or poster board if you plan to hang a light inside the lantern. The material needs to be sturdy enough to support itself, and these options work best. Use the "glitter cardstock" setting for your material settings, as it will ensure clean cuts with two passes.
Step 3: Assemble Your Paper Star Lantern
A. Prefold each dashed angle of all five paper star lantern pieces, including the long side tab.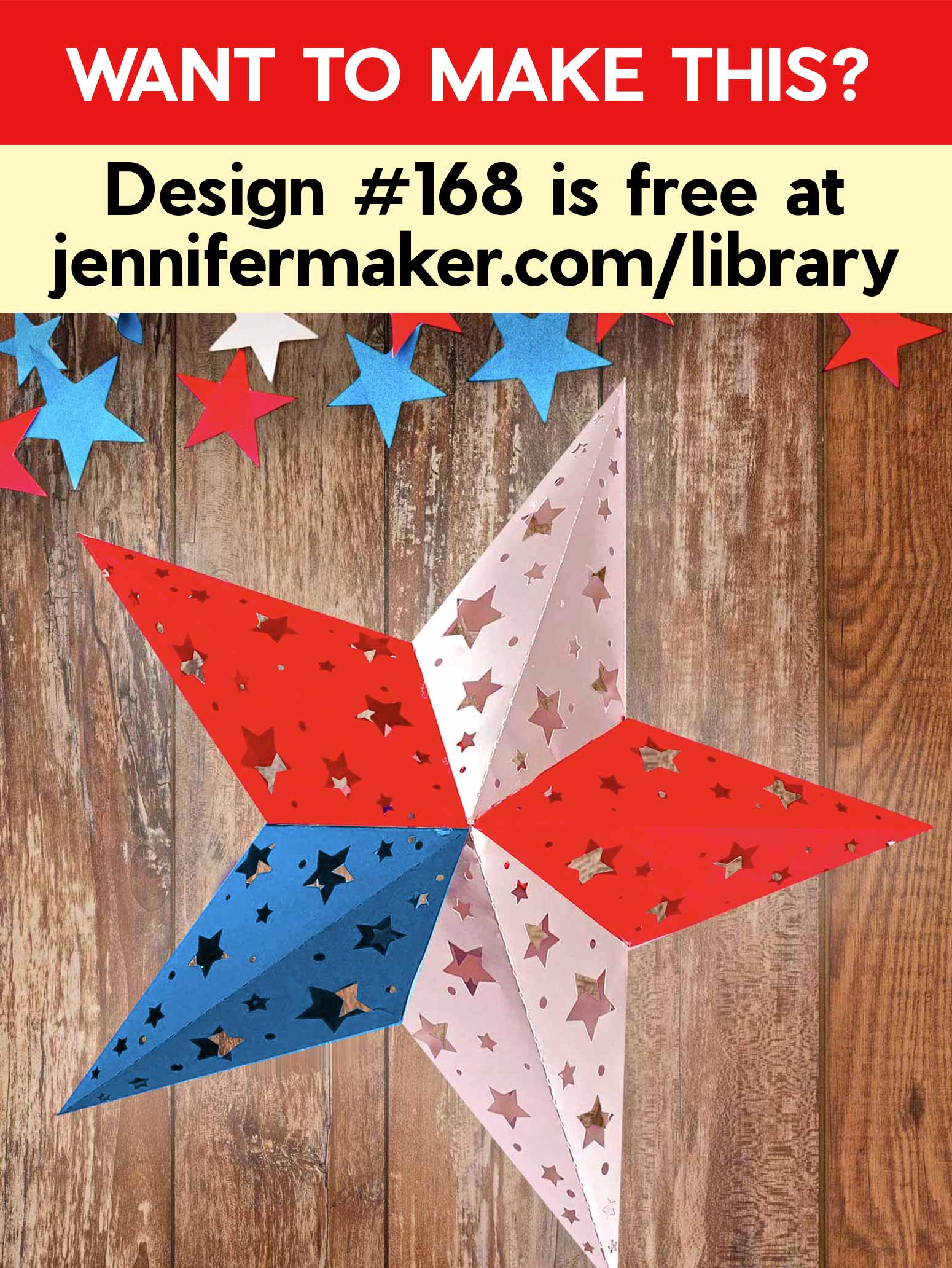 B. Prefold the bottom of the two tabs in the opposite direction from the way you folded them in step A. Be sure to fold all five pieces in the same manner.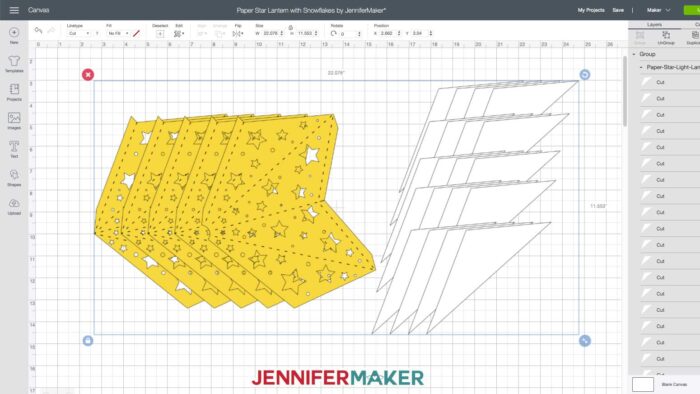 C. If you're using the vellum layer, spray the inside of each of the five paper star lantern pieces with permanent spray adhesive. Then, place the vellum on top of the sections of each star lantern piece. Allow it to dry completely before moving on.
D. Set aside the star point piece with a crescent missing at its point.
E. Take the other four pieces, apply glue along the long side tab, and glue the tab to the inside of the other side to form a point. Make sure the pieces align flush. Repeat this step for all four pieces. You will end up with four star points.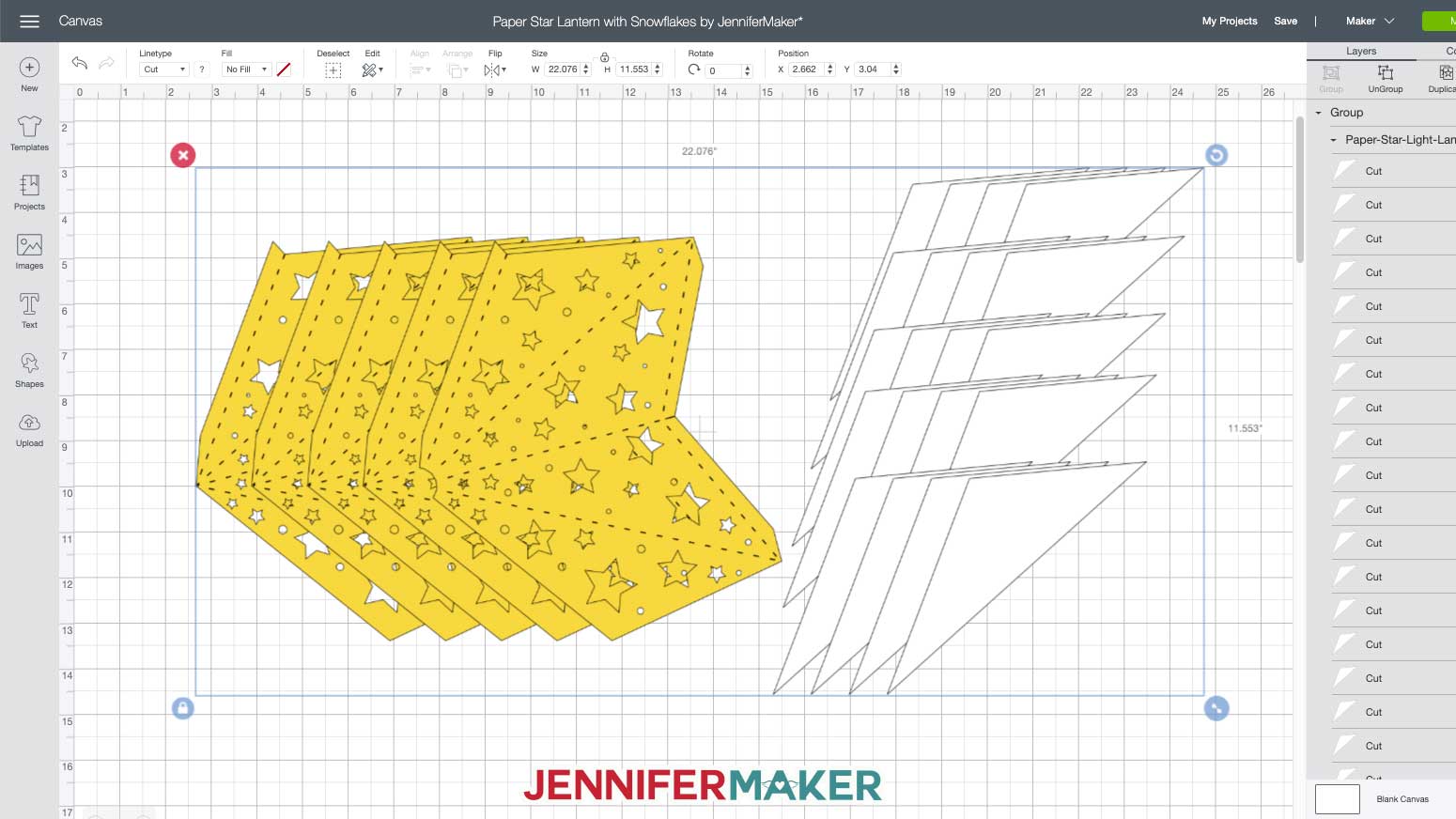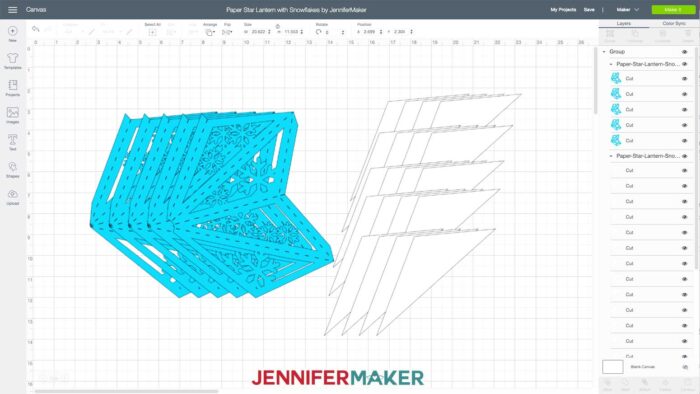 F. Place glue on one side of the bottom tab of one star point and glue another star point to the other side of the light fixture tab. Continue this process until all four star points are glued together.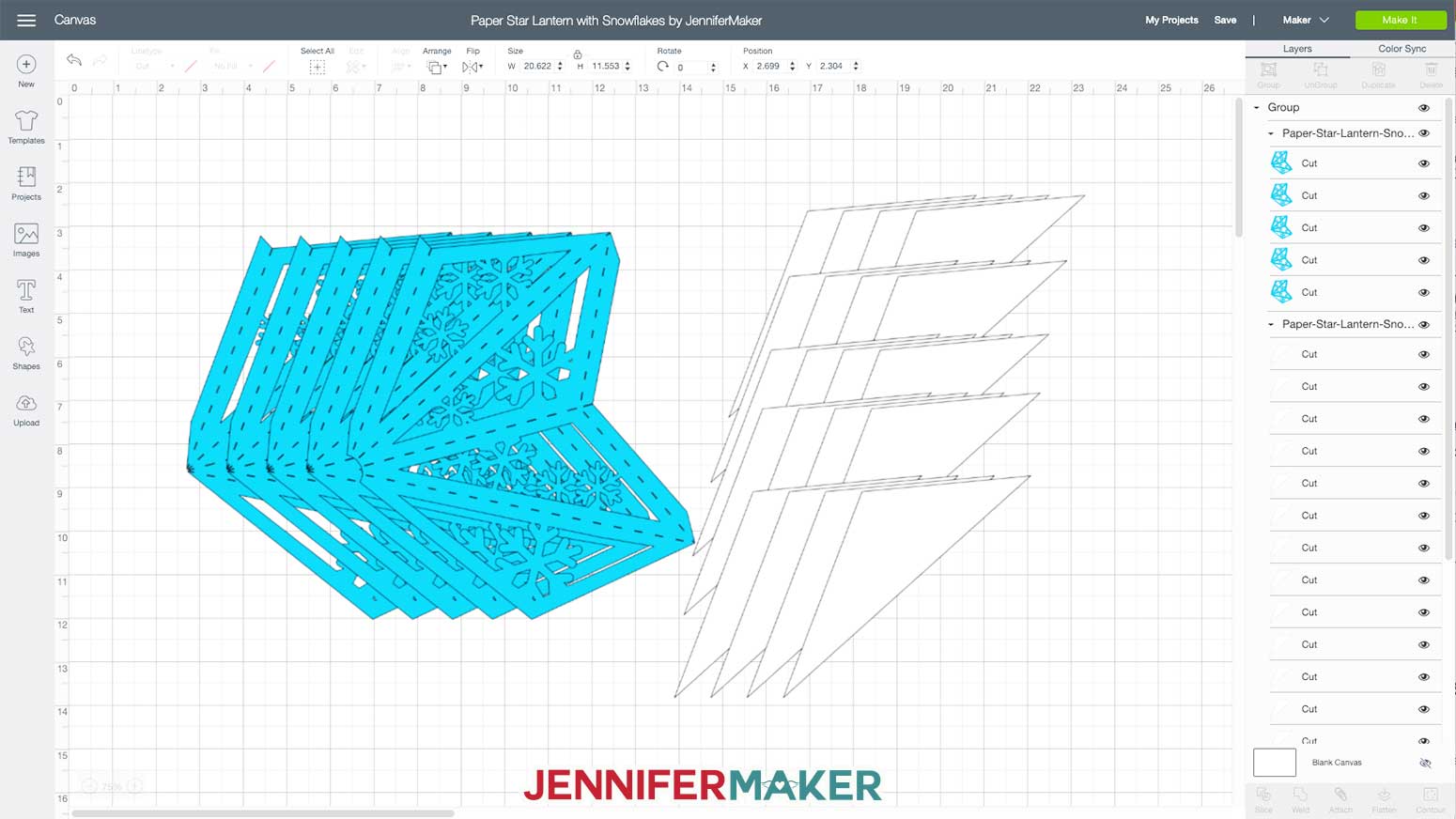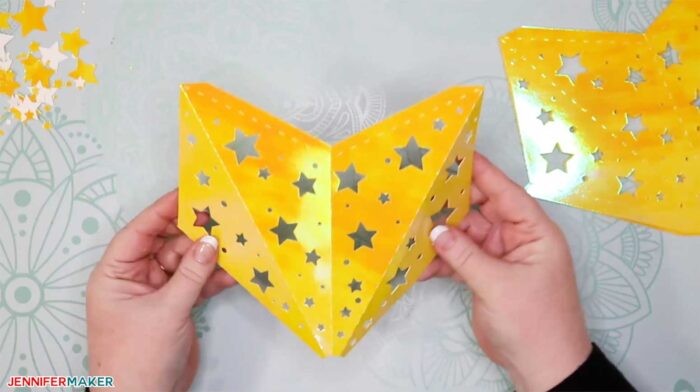 G. Pick up the piece you set aside earlier and glue the shorter tabs to the main star assembly. You'll need to reach inside to press the layers together while the glue sets.
H. If you want to illuminate your paper star lantern, insert the light fixture now, making sure the cord sticks out of the unglued point. Carefully glue the long tab in place to close up your paper star lantern. The last piece may be a little tricky, so take your time and assemble it with care. Be patient with yourself.
Once you're done, hang your paper star lantern from the pendant cord!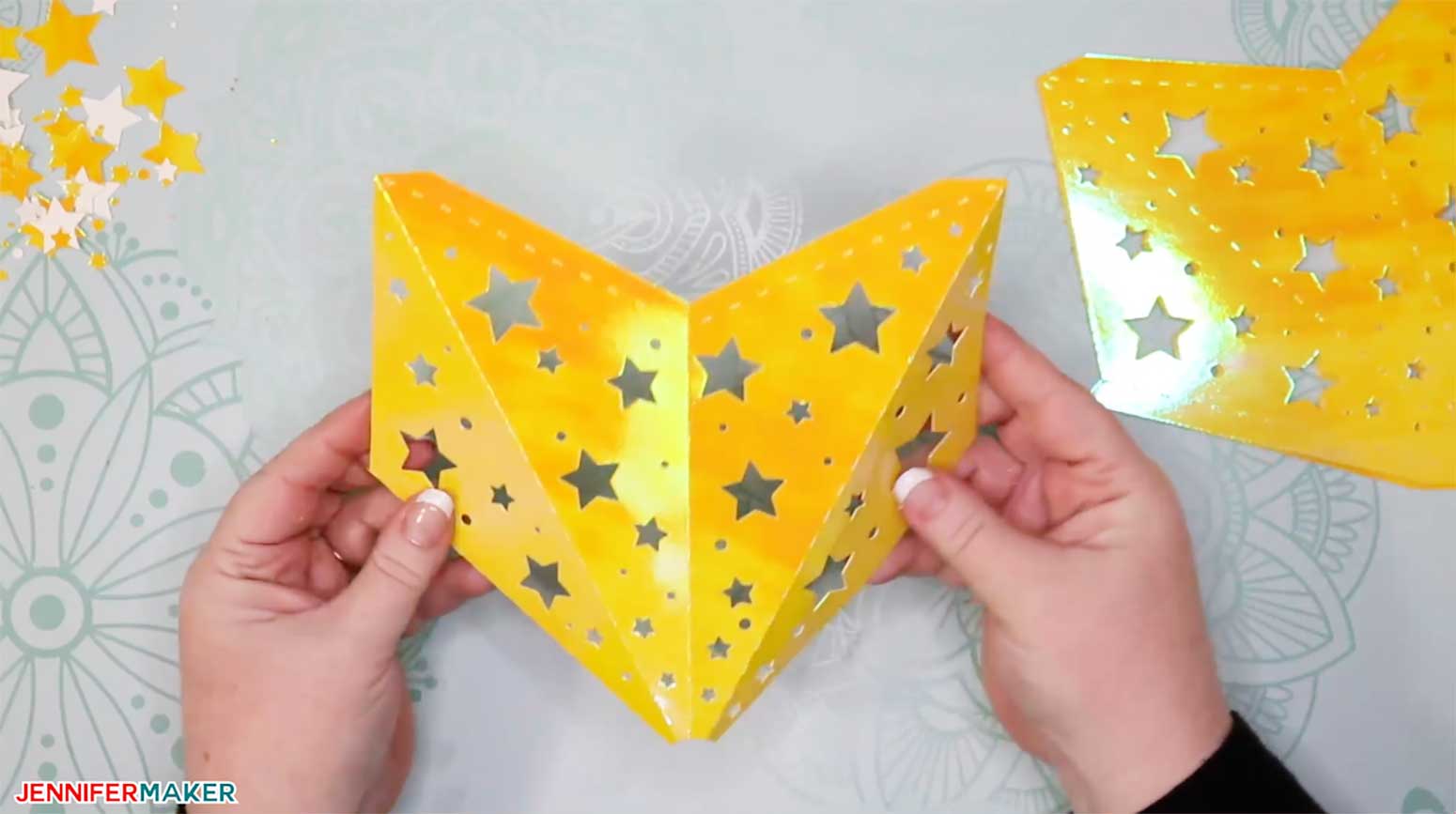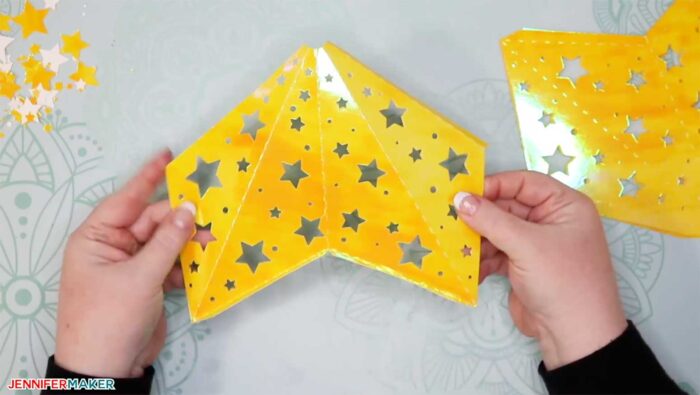 Get Your Free Paper Star Lantern SVG Cut Files and Patterns
If you create paper star lanterns, we'd love to see your creations! Share your photos in our Facebook group, email them to me at [email protected], or tag me on social media with #jennifermaker.
Don't forget to check out all the projects, tutorials, and free designs in The Great Maker 25-Day Gift-Away Challenge!
Love,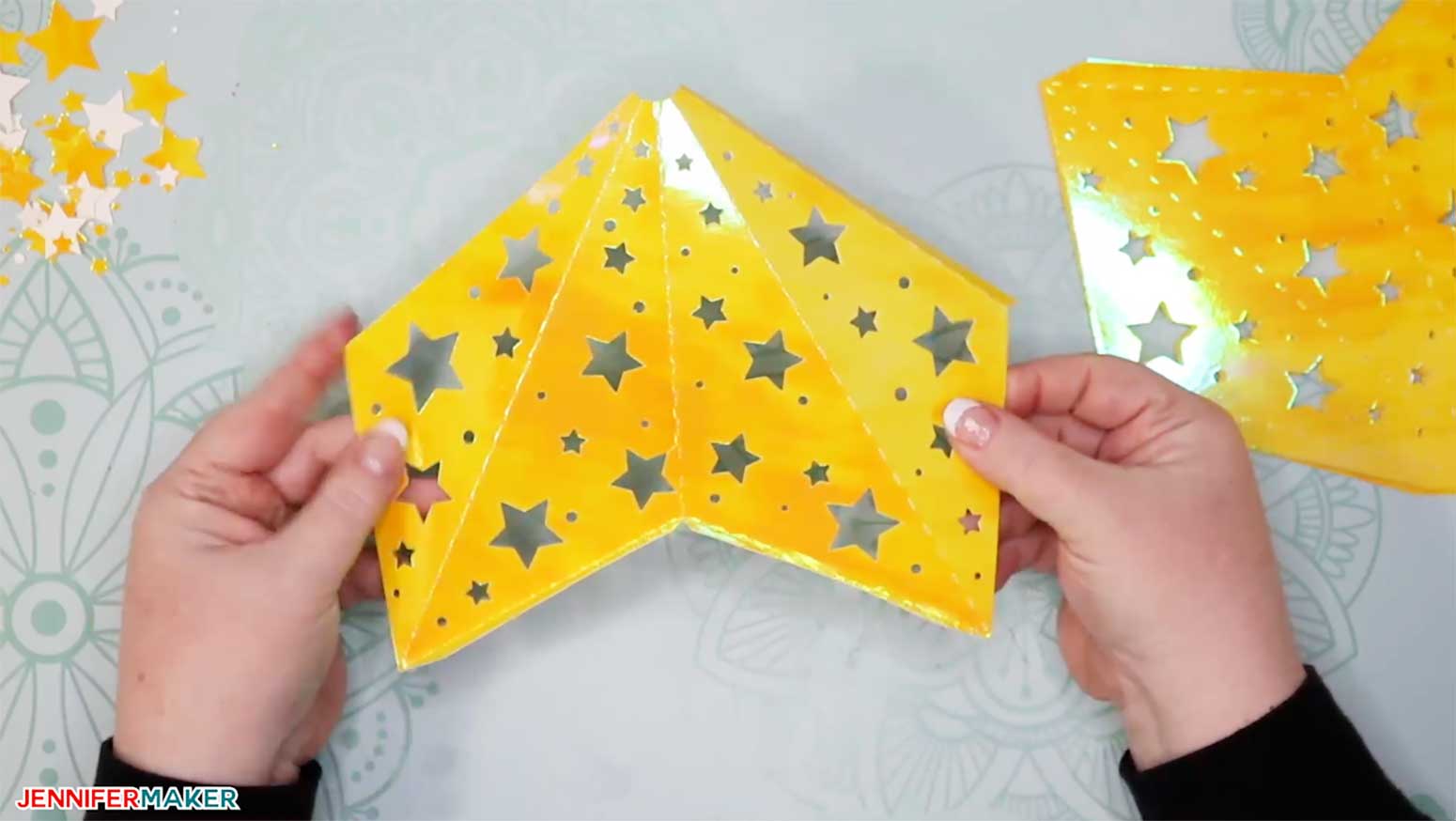 Want to remember this? Save the DIY Paper Star Lantern Tutorial to Your Favorite DIY Pinterest Board!