Blog
Paper Piecing Quilt Designs
Do you have a pile of fabric scraps just waiting to be used? Look no further than foundation paper piecing! After hours of research, I've curated an extensive collection of printable paper piecing blocks and quilts. Whether you're a beginner or an experienced quilter, there's a template for everyone.
What Sets Foundation Paper Piecing Apart?
You may be wondering about the difference between English paper piecing (EPP) and foundation paper piecing (FPP). Both techniques are great for utilizing leftover scraps, but they differ in execution. Foundation piecing is done on a sewing machine, while EPP is a hand-sewn method that allows for reusable paper patterns.
Let Your Creativity Soar with Free Paper Piecing Patterns
Butterfly Charm Blocks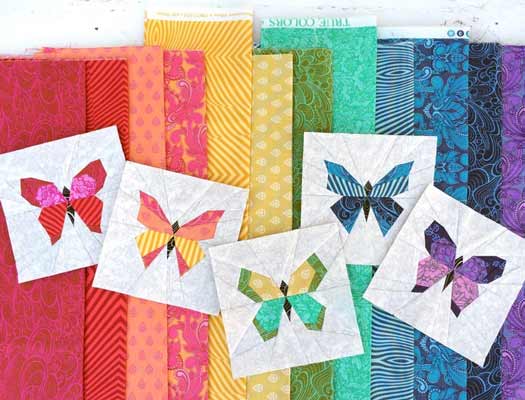 by Lillyella
Immerse yourself in the whimsical beauty of these butterfly charm blocks. Choose from four different options, each featuring a colorful, polygonal butterfly against a white background. With their captivating design, these blocks will elevate your quilting projects.
Maple Fox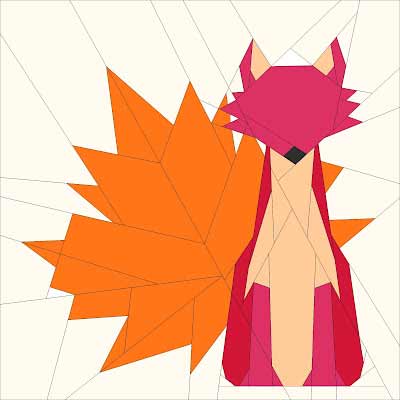 by Jednoiglec
Embrace the essence of an autumn forest with the maple fox pattern. The polygonal shapes come together to form a stunning mosaic of a sitting fox and a large maple leaf. This pattern resembles a mesmerizing stained glass scene.
A New Quilting Adventure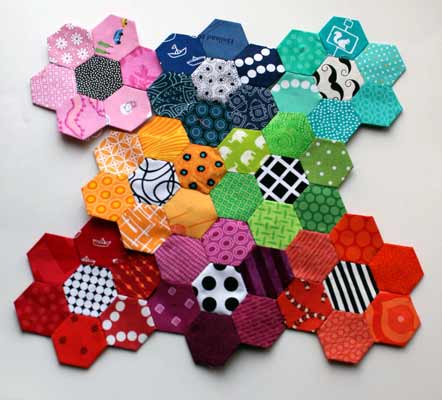 by Wombatquilts
Experience the rainbow reinvented with this honeycomb cluster pattern. Create vibrant hexagonal blocks by combining seven hexagonal shapes of the same color. Match these colorful clusters to form a stunning quilt that captivates the eye.
Atlantic Seas Block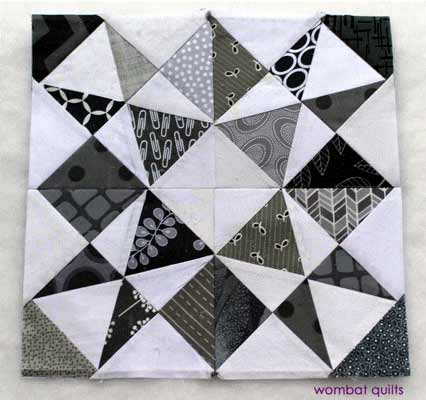 by Quilterscache
Prepare to be mesmerized by this black, white, and gray masterpiece. The diamond-shaped blocks form an illusion of triangles pointing outward, reminiscent of a kaleidoscope. Get ready to be dazzled by this vivid design.
Gretchen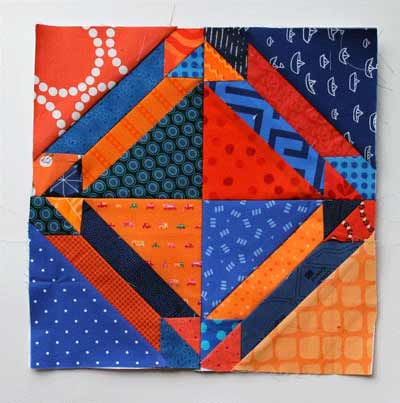 by Quilterscache
Diamond shapes are timeless, and this pattern showcases their elegance. Adorn your quilt with a large diamond surrounded by contrasting strips and four matching triangles in the corners. It's a stylish twist on a classic design.
Hunter's Star

by Quilterscache
Although it may seem complex, this pattern is surprisingly easy to create. The sawtooth star, fashioned from contrasting rhombus pieces, radiates diagonally with lines protruding in the same fashion. Complete with contrasting triangles, this design is sure to impress.
Fly Foot 2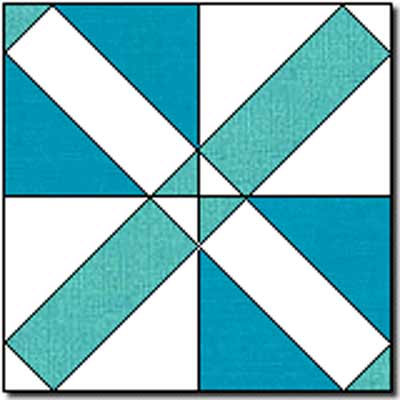 by Quilterscache
Get ready to stitch a stunning pattern featuring a square base surrounded by smaller squares in matching diagonal colors. The striking hourglass design at the center adds a touch of elegance to this mesmerizing block.
Ellen's Snowball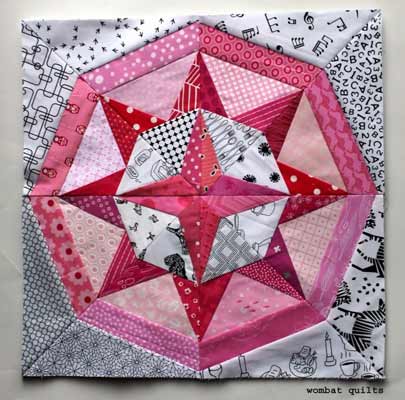 by Wombatquilts
Discover the rare beauty of an octagonal snowball pattern. This unique design boasts a square base with a snowball on top. With a thin frame around the edges and intricate stars within, it's a true work of art.
Fireworks Pinwheel Block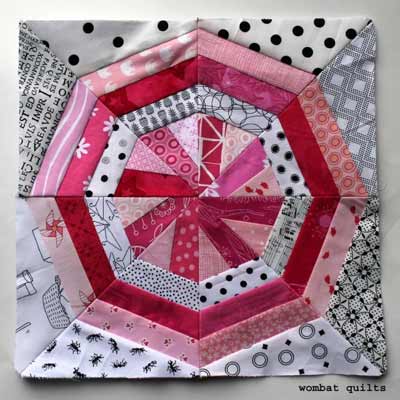 by Wombatquilts
Watch the wheels of this pinwheel pattern come to life. Colorful, slightly offset triangles join together to form a polygonal ball, creating the illusion of a turning wheel. With three octagonal frames, this design is a burst of joy.
Crest Star Pattern Block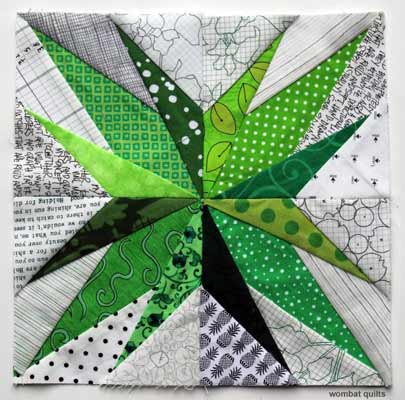 by Wombatquilts
Ever wondered what a leafy star would look like? This pattern brings it to life with numerous pointy, long triangles in various shades of green. Enjoy the mesmerizing star with twelve points on a white background.
ET Phone Home – The Quilt Block Template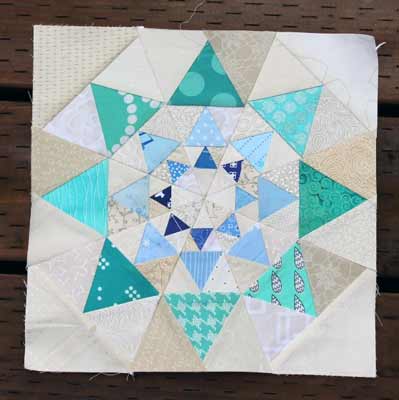 by Lilysquilts
Ignite your imagination with this captivating quilt block. Simple triangle pieces in contrasting hues create a magnificent octagonal ring. You'll be amazed by the diamond shine effect it creates.
House Quilt Block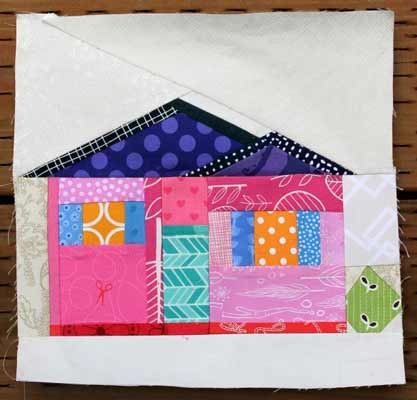 by Wombatquilts
Experience the charm of a quilted house pattern. This adorable block features a double-roof, front doors, windows, and even blinders. With its bright and cheerful colors, it's perfect for adding a touch of whimsy to any project.
Starry Night Block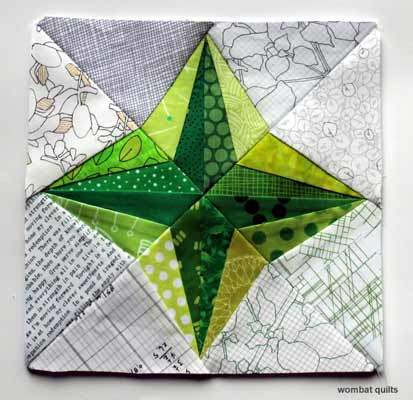 by Wombatquilts
Unleash your creativity with this starry night block. Against a white or gray background, a lovely star with four distinct points takes center stage. An additional smaller and darker star nested within completes the enchanting design.
Icky Thump Block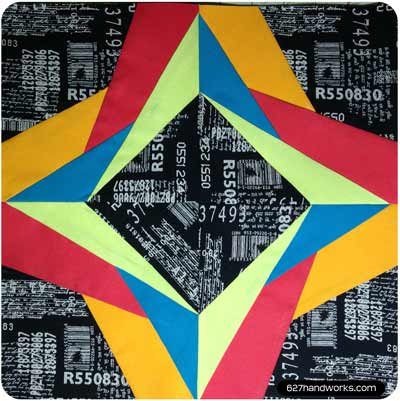 by 627handworks
Embrace the modern and cool design of this pattern. Reminiscent of flying ninja stars, it features a four-point star made of triangles in alternating colors. The contrasting smaller star within adds an extra touch of flair.
Zeppelin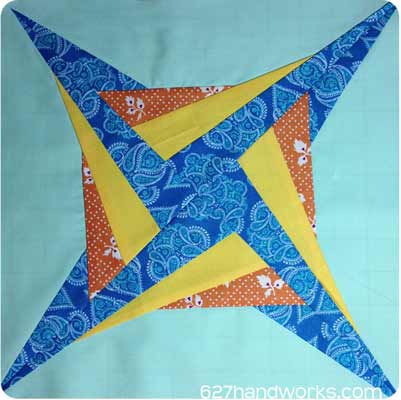 by 627handworks
Don't be intimidated by this pattern; it's easier to make than it appears. Four long and narrow triangles form a tilted four-point star with a square base. Additional triangles in complementary colors complete the design. Let your quilting take flight!
Bowie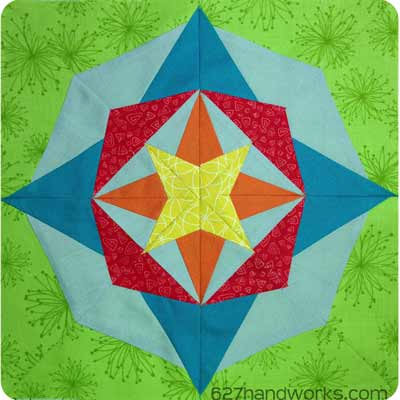 by 627handworks
Prepare to be captivated by this pattern's complex yet stunning design. An octagon with a four-tip star, a smaller octagon inside with another four-tip star, and a tiny tilted four-tip star in the center all come together in a bold display of creativity.
Birds in the Air Quilt Block Pattern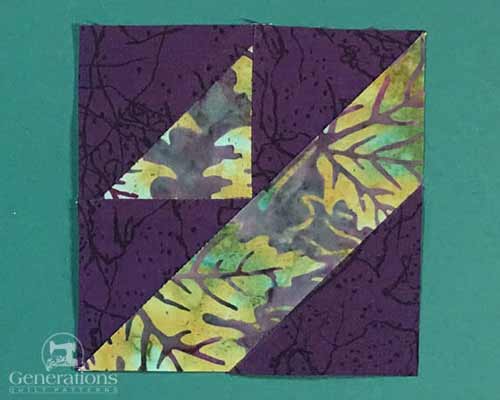 by Generations-quilt-patterns
Minimalistic, modern, and absolutely beautiful, this block features a square base with a diagonal strap resembling whiskey labels. Paired with a matching triangle, this pattern exudes elegance.
Dutchman's Puzzle Quilt Block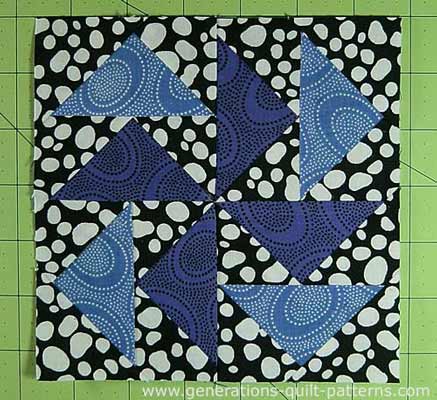 by Generations-quilt-patterns
Unleash your inner puzzler with this quilt block design. It showcases a square base with eight alternating triangles, forming a captivating pattern. Let this block add a touch of whimsy to your next project.
Joyce's Mystery Quilt Block Pattern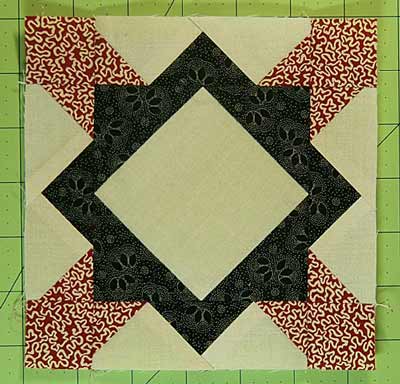 by Generations-quilt-patterns
Unlock a world of creativity with this unique quilt block. Its mild color background beautifully complements the four thick stars, creating a fusion of square and diamond shapes. Add an extra touch of flair with a diamond matching the background at the center.
Foundation Paper Piecing Instructions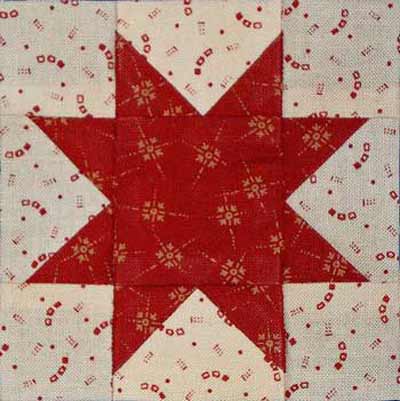 by Generations-quilt-patterns
Let this pattern guide you through the art of paper piecing. Discover how to create a simple block with a sawtooth star. Gain valuable hints and tips to help you master the art of foundation paper piecing.
Virginia Reel Quilt Block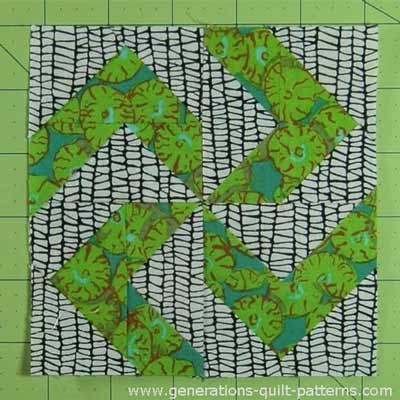 by Generations-quilt-patterns
Experience the joy of quilting with this rectangular spiral design. The spinning windmill shape evokes the cheerful essence of the spring season. Bring this delightful block to life with vibrant shades of green.
Fly With Me Mini Quilt by I Heart Linen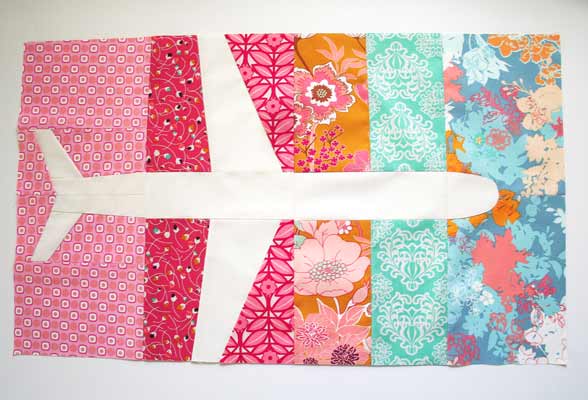 by Artgalleryfabrics.typepad
Do you have a passion for travel? Take off into creativity with this playful plane pattern. It features straps of different colors joining together to form a delightful silhouette of a top-down airplane. Let your imagination soar!
Playing with Blocks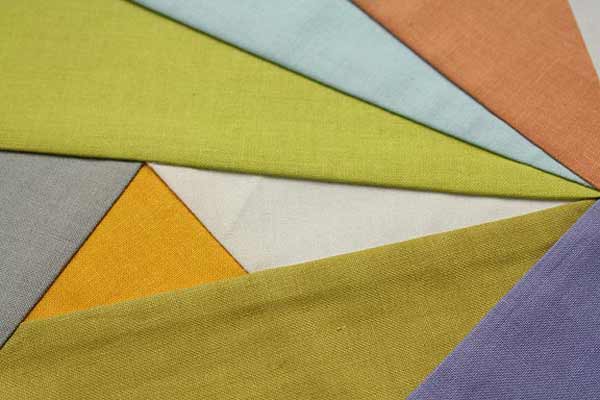 by Thelongthread
Let your inner artist shine with this abstract pattern. Cut various fabrics into strips and triangles, then stitch them together seemingly randomly. The result? A quilt that resembles a modern abstract painting, evoking a range of emotions.
Red Herring Paper Pieced Block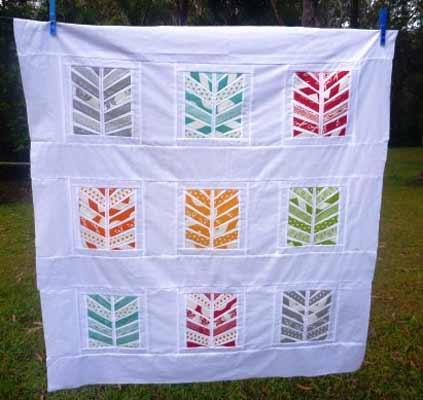 by Quietplay.blogspot
Discover a fresh take on the herringbone design with this block pattern. Nine blocks, each in a different color, come together to form a mesmerizing 3×3 grid. Against a pure white background, the herringbone shapes truly stand out.
Cow Block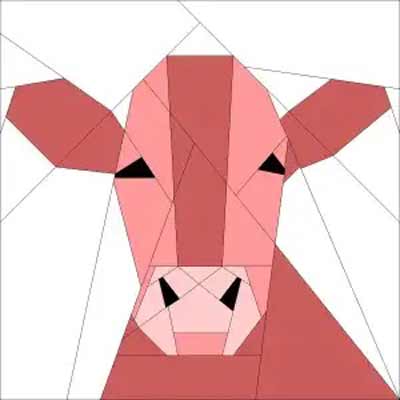 by Piecemealquilts
Embrace the angelic nature of cows with this adorable block pattern. The mosaic-like image of a cow face, made from triangles in various colors, is sure to charm any animal lover.
Up in the Air, We Fly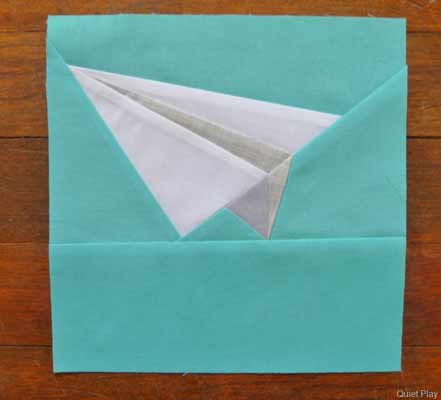 by Quietplay
Who says you can't make paper airplanes as an adult? Stitch this whimsical quilting block featuring a top-left view of a flying paper airplane. Against a lively green background, the white plane takes center stage.
The Warsaw Mermaid

by Jednoiglec
Sailors, beware! The captivating beauty of the Warsaw Mermaid is transferred onto this quilting block. Situated on a rock in the ocean, her curly blonde hair catches the wind. The colorful background symbolizes the vibrant nightlife of Warsaw.
Spinning Pinwheel Block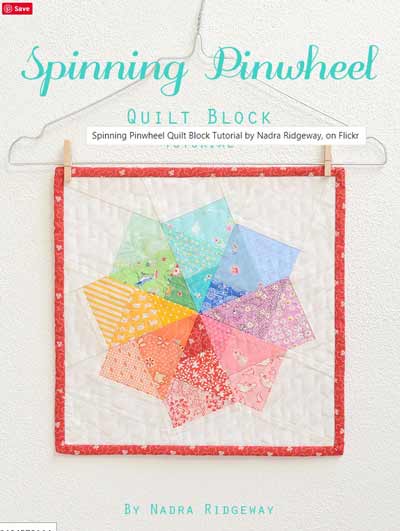 by Ellisandhiggs
Let your quilting take a spin with this vibrant block. Against a white base, slightly transparent rectangles in various colors form a delightful circular pattern. As the rectangles intersect, a pinwheel effect comes to life.
Foundation Paper Pieced Carrots Mini Quilt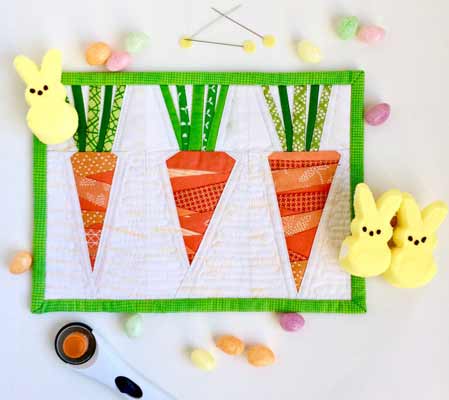 by Diaryofaquilter
Add a touch of cuteness to your Easter decorations with this adorable mini quilt. Three orange carrots, with thin green stems, hang from the top edge of the quilt. Against a white background, this pattern is perfect for festive decorating.
Home House Foundation Paper Piecing Pattern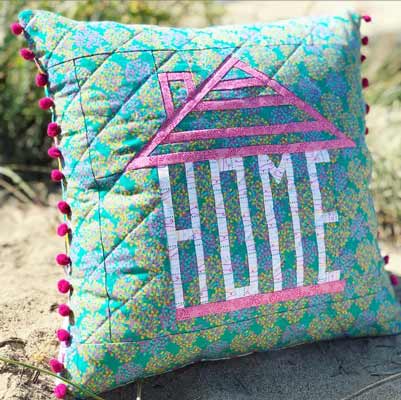 by Unicorn Harts Payhip
Create a cozy atmosphere with this charming pattern. Made of stacked rectangles, it depicts a minimalistic house. The word "home" serves as the house walls, while another rectangle represents the foundation. Perfect for quilts or house decor!
"Hearts and Rainbows" Foundation Paper Piecing Pattern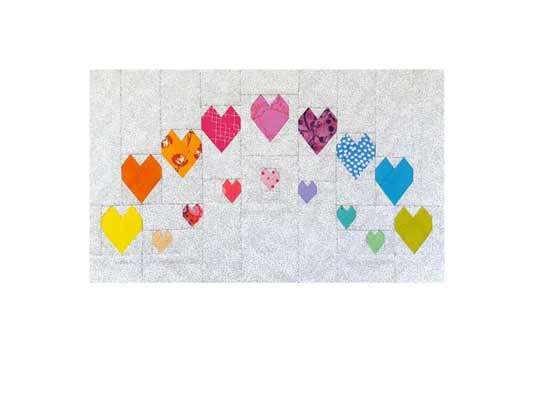 by Unicorn Harts Payhip
Fall in love with rainbows and hearts through this delightful pattern. Nine polygonal hearts, in rainbow colors, form an enchanting arch. Smaller hearts below add an extra touch of sweetness to this captivating design.
Candy Cat Foundation Paper Piecing Pattern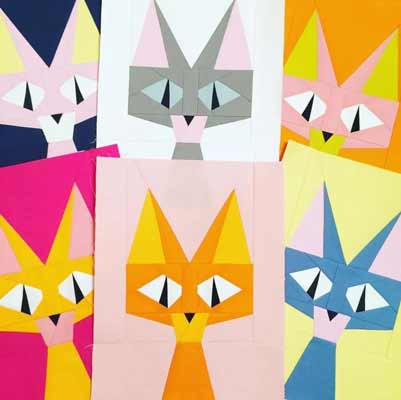 by Unicorn Harts Payhip
Unleash your creativity with this modern cat pattern. Made of polygons in various colors, it captures the essence of a royal feline. From the mouth and ears to the fur and eyes, every detail paints the portrait of a majestic cat.
Beginner-Friendly Foundation Paper Piecing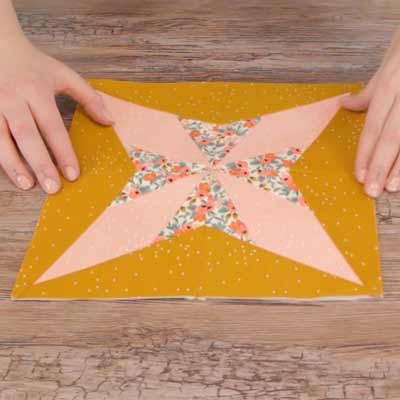 by Weallsew
Embark on your quilting journey with this beginner-friendly star-shaped pattern. Perfect for those new to paper piecing, it features a large four-point star with contrasting inner triangles. Let your creativity shine through this simple yet captivating block.
Butterfly Paper Piecing Pattern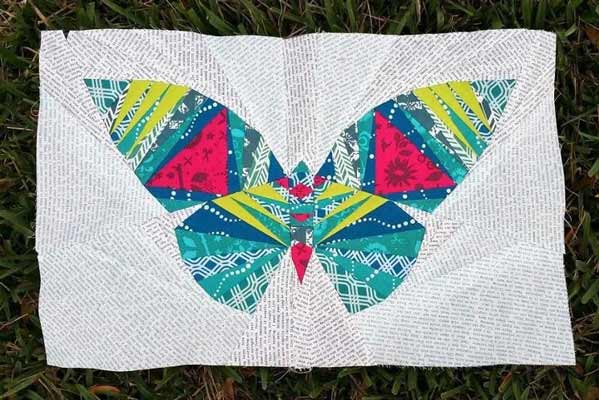 by Sewingwithscraps
Unleash the beauty of butterflies with this magnificent paper piecing pattern. Joining polygons of various fabrics creates a stunning silhouette against a single-color background. Let your imagination take flight!
Fox Quilt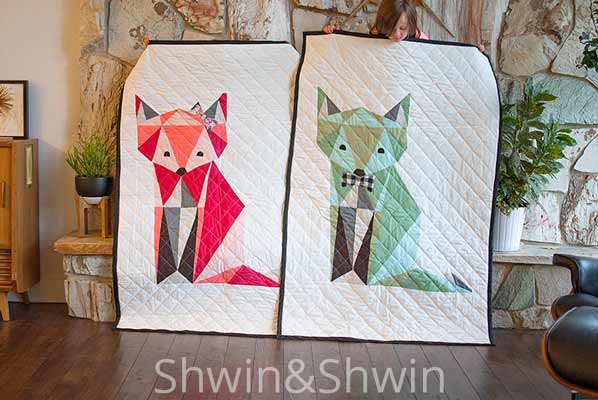 by Shwinandshwin
Fall in love with the adorable charm of this fox quilt. Against a pure white base, diagonal stitches form diamonds as they intersect. The mosaic-like fox gazes sideways, capturing hearts with its irresistible eyes.
Slytherin House Crest Letters Applique Pattern
Use the code FREE2019 at checkout to get the price down to zero.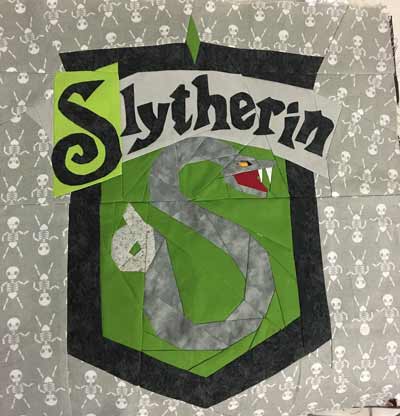 by Pitchersboutique
Step into the world of Harry Potter with this pattern featuring the iconic Slytherin house crest. The snake-shaped insignia on a green background is complimented by a black frame. This one's for the Hogwarts enthusiasts!
Forest Woodpecker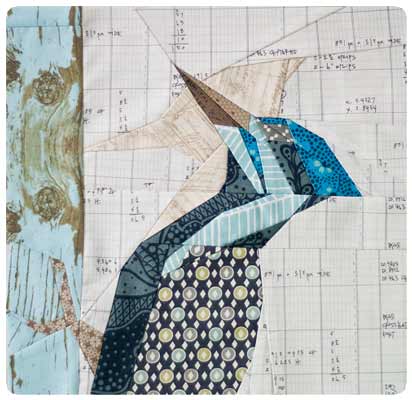 by Jednoiglec
Capture the majesty of a woodpecker with this mesmerizing block pattern. The mosaic motif showcases a beautiful blue woodpecker poised and ready to peck. Embark on a quilting journey that celebrates nature's wonders.
Last Minute Christmas Sampler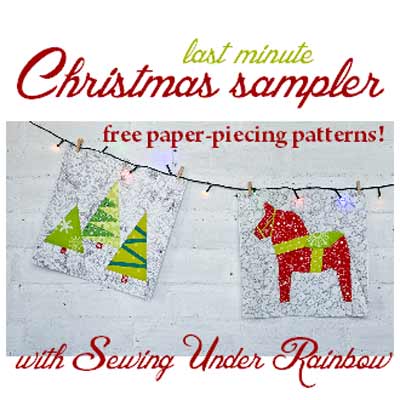 by Jednoiglec
No need to panic if you're behind on Christmas preparations. This pattern has got you covered! Create blocks featuring holiday motifs such as Christmas trees, Nutcrackers, reindeer, and snowflakes. String them together as buntings to instantly elevate your festive spirit.
Celebration Wreath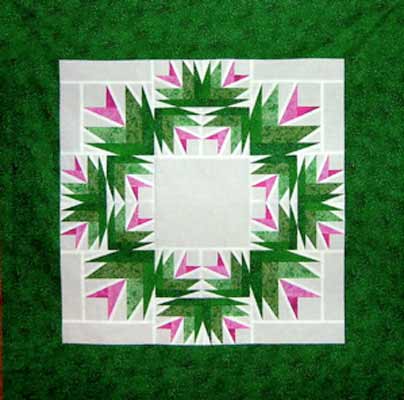 by Caroldoak
Embrace the warmth of Christmas with this delightful wreath pattern. Triangles in shades of green form a lovely diamond-shaped wreath. Purple triangles double as ribbons, adding an extra touch of joy to your quilt.
Have-A-Heart Block Designs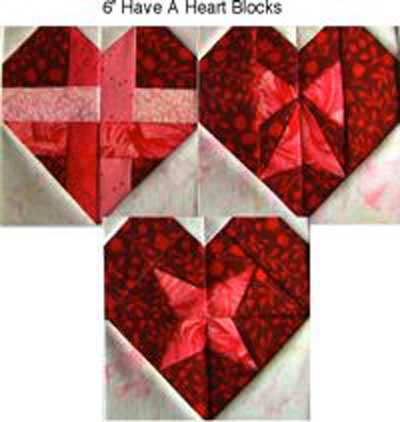 by Caroldoak
Let love take center stage with this heart-themed pattern. Choose from three delightful motifs to place within the heart: a sawtooth star, a bow, or a bell. Showcase your affection with this captivating design.
Tool Caddy for Your Paper Piecing Tools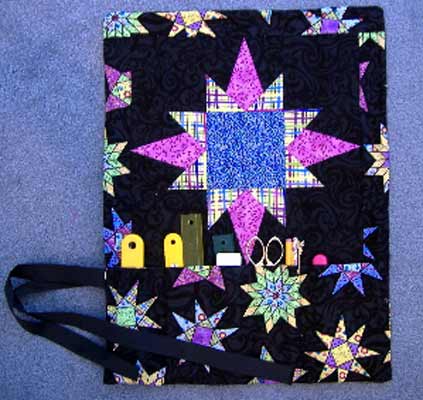 by Caroldoak
Keep your paper piecing tools organized with this stylish tool caddy. Crafted from paper pieced blocks featuring stars, squares, and diamonds, it offers multiple pockets for scissors, pins, rulers, or rotary cutters. The convenient shoulder strap makes transportation a breeze.
There you have it! I hope you've enjoyed this collection of free foundation paper piecing patterns and paper piecing quilt designs. Let your creativity flourish by trying one of these captivating patterns. Transform your masterpiece into a pouch, cushion, mug rug, wall hanging, or even incorporate it into your outfits. With endless possibilities, the choice is yours!
Have you discovered a favorite among these patterns? Share your experiences and let us know which one you can't wait to try. Remember to subscribe to our mailing list for the latest content and fresh inspiration. Happy paper piecing adventures!