Blog
Pooch Paper Shark Tank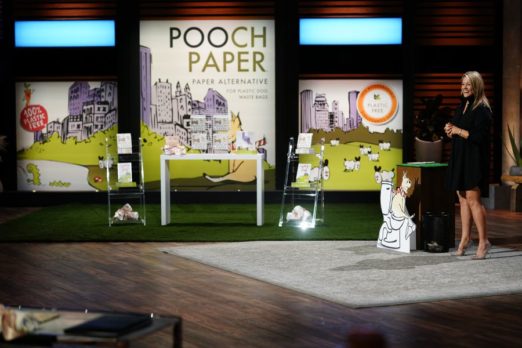 Tracy Rosensteel hopes to clean up in the Tank when she pitches Pooch Paper, her biodegradable alternative to single use, plastic dog poop bags, in Shark Tank episode 1202. Tracy founded the business in September, 2018 because she – like many dog owners – had misgivings about single use plastics. PoochPaper is one of three concerns she's involved with: she's a sales director for the Compass group, a global food service organization and she also produces, directs and hosts In Pursuit of Passion – a travel biography show on PBS that highlights people who pursue their dreams.
Tracy claims there is over 21 billion pounds of dog poop dropped into landfills each year, most of it in plastic bags. Her solution is 12 inch by 12 inch sheets of recycled paper. A grease resistant coating makes sure the poop stays inside the paper. The sheets are 100% compostable and biodegradable. Simply grab onto the poop and twist it up in the sheet and you've successfully cleaned up after your dog.
A pack of 50 sheets costs $14.99. She also sells a bulk package of 4000 sheets for $450. She markets that to municipalities for dog parks. Her goal is to reduce the use of 500 million single use poop bags per year. These bags contribute to the microplastics problem in our environment and the decomposing poop in the bags causes methane gas build up in landfills which contributes to global warming. Tracy would like a Shark to help her make Pooch Paper a household word.
Company Information
BUY NOW on CHEWY.COM
Website
Facebook
Twitter
Video
Posts about Pooch Paper on Shark Tank Blog
PoochPaper Dog Poop Bag Replacement
Pooch Paper Shark Tank Recap
Tracy enters the Shark Tank seeking $250,000 for 12% of her business. She gives her pitch and tells her story, then the Sharks review the samples. She says she is going to be on the shelves of a major retailer soon (Target). So far for the year, she did $50,000 in sales. Margins are healthy at 47%. The product is patented.
The only Shark interested is Kevin. He makes two offers. The first is $250,000 for 50% of the business. The second is $250,000 for a $1 per sale royalty in perpetuity for no equity. She takes the royalty deal.
Pooch Paper Shark Tank Update
The Shark Tank Blog constantly provides updates and follow-ups about entrepreneurs who have appeared on the Shark Tank TV show. Since airing, she introduced a larger size because "poo poo happens." Tracy scored a deal with over 500 KOA Campgrounds to provide Pooch Paper dispensers in their campgrounds in the US and Canada. She also is in over 1600 Target stores, 1700 Petsmart stores, Pet Supplies Plus and dozens of small, mom and pop stores. She also is actively marketing to county level decision makers for municipal dog parks. You can also find the product on Chewy. As of December, 2021, there is no mention of Pooch Paper on Mr. Wonderful's website, but he did make this video touting the product:
Her website did get a major overhaul after the initial air date and she left her sales job, so maybe Pooch Paper is her full time gig. In 2022, her show, Pursuit of Passion, was picked up by Amazon. It features Tracy visiting with people who have interesting jobs and love what they do. As of August, 2022, the deal with Mr. Wonderful did not close. Lifetime revenue recently surpassed $1 million. In June, 2023, the products are available in many retail locations including Target.
Also