Blog
What Is Wafer Paper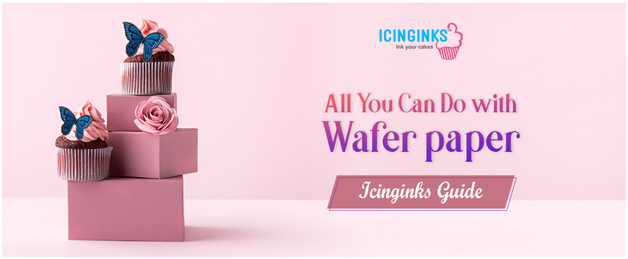 We have talked enough about what are Wafer Papers and what are they made of. If you are new to Icinginks and to cake decorations altogether, check out the end of the blog for references. Today I am going to tell you everything you can do with the edible wafer sheets. They are made with all edible materials and look like regular paper. You can fold them, mold them and decorate them at your will. You can paint or print on them with the right tools & supplies.
Working with the versatile edible sheets you need to keep a few tools handy. For the very basic edible decorations to craft, you will need edible glue, edible paints, and a pair of scissors. For more advanced decorations you can use edible ink printers, edible glitters, DIY paper cutters, and airbrush tools (keep one separate for edible sheets only). In short, anything you can do with a regular sheet, just replace them with its edible counterparts.
Let's categorize all the edible decorations possible with the wafer sheets first.
1. Flowers or, Floral Decorations
2. Butterflies & Other Winged Decorations3. Abstract Decorations Like Edible Cake Topper Sails4. Folds & Gathers5. Geometric Cut-Outs6. Edible Printing
So now that we have summarized the possibilities into the major categories, let's explore them one by one.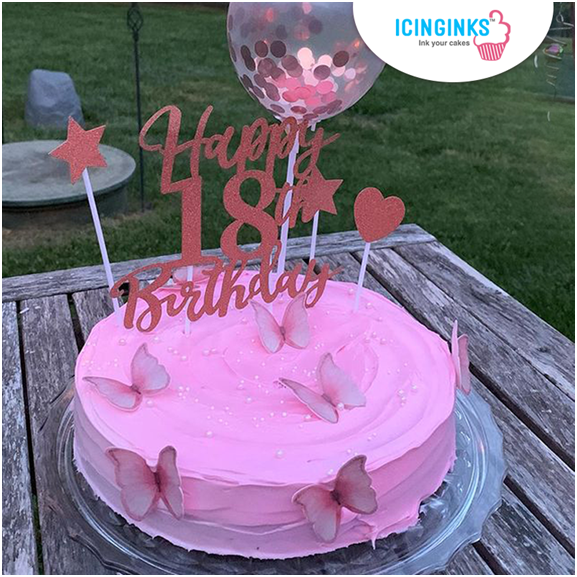 6 Ways To Use Edible Wafer Papers For Cake Decorations
1. Crafty Edible Floral Decorations
Roses, Carnations, Peonies, Pansies, Dahlias, Calendulas—no matter what you fancy, if you can craft them with regular papers, you can craft them using wafer papers as well. You can use stencils or cutters to make the petals. If you ask me, freehand crafting with scissors makes the best petals. With a slight touch of water with your fingers or, a soft brush, you can shape the papers. Water would make the papers curl and shape in a way that looks natural like real flowers. Try to cut out multiple petals and stick them together with edible glue.
Color the petals in a way that's darker in the middle and radiates to the edges to make them look realistic. You can use edible lusters for more fancy looks. With some practice and patience, you should be able to create any floral decorations, large and tiny ones.
2. Edible Butterflies & Winged Decorations
Butterflies on a cake or cupcake look absolutely gorgeous. Wafer papers can create colorful butterflies that would hold their shapes longer and also be edible decorations. Color them and cut them out in the proper shapes and sizes. You can fold them in halves and open again to give the wings a little bouncy angular effect, looking more realistic.
If you are making dragonflies, bees, or better, a pixie-craft the wings using edible wafer sheets. Their translucent nature will give any wings a much natural look and also hold the shape perfectly. Print the sheets with a realistic image and cut out the wings for better results.
If you are running low on time, may I suggest a little cheating! Buy ready-to-use edible butterflies and call it a day. I promise no one will know.
3. Edible Cake Toppers: Sails & Abstract Shapes
Edible sail cake toppers are raging trends right now. They look like something made of crystals and glasses. Of course, you can use sugar or candy melt but a better and safer way to make them is to use wafer sheets. When put on a cake, they instantly give a professional look. In reality, they are rather easy to create and you too can make some using rice papers or wafer papers, water, edible colors, and silicone baking mats. Now, most recipes call for rice papers that you use for Vietnamese summer rolls. However, the printable wafer papers for cakes used in confectionaries work as well. Just don't completely dunk them into a bowl of water.
The printable white wafer sheets you get for cakes are not dehydrated, unlike the Vietnamese rice papers. So sprinkle or spray a bit of water and you would be able to shape it as you want. Put the wafer sheet on a baking mat, spray some water on it and fold the mat to give an abstract shape to the paper. This is a better way to hold the shape till the water you put dries out. Once dried, you will have edible sail shapes for cape toppers.
4. Wafer Paper Pleats & Ruffles As Edible Cake Decorations
Wafer papers are great to fold and create pleats & ruffles as they would easily hold the shapes like regular paper. Chinese fans, pleated leaves are some easiest edible cake toppers using the edible sheets. If you get any cracks, crevices while folding the paper, a little touch of edible glue can fix it immediately.
Cut small pieces of the wafer papers and make a free-hand gather. Attach them one by one to cover an entire cake and you may have a gorgeous ruffle cake decoration. You may add colors to the edges and make them look even more attractive. Play around with the sheets and let your creative juices flow.
5. Intricate Cut-Outs With Die Cutting Machines
Just like any regular sheets, the edible wafer sheets too cat be cut in any shape you desire. When your scissors are not enough, use die cutters. It doesn't have to be professional die-cutting machines, you can steel dies as well. You can create as intricate designs as you want and make a cutout design for your entire sheet. Color the sheet then with a contrasting color to the frosting. This way when you put the paper on the cake it would give an unreal appeal that looks gorgeous for sure. Cut-out designs are fun and sneaky.
6. Edible Printing Using Edible Wafer Sheets
This method to decorate and use wafer sheets has literally limitless possibilities. All you need is an edible ink printer equipped with edible cartridges, edible inks, and a digital file of the image you want on your cake.
Although, frosting papers make better edible images, when used right, edible wafer papers have their own special charm. Print some victorian designs, floral images and you will get very realistic-looking edible wallpapers for cakes. Use the dull oldish prints to your advantage and create a historical period drama feel. You can create very realistic edible money for cake decorations with the wafer sheets.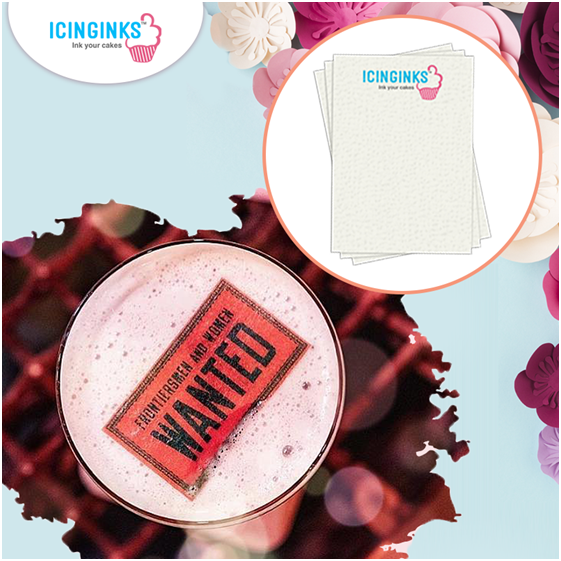 So here's a sum-up of all you can do using wafer paper. Play with the paper and try all the techniques to know the material better, The more you practice, the more you know. Now, as promised in the beginning, for basic knowledge and idea about the wafer sheets, read "What is the Difference Between Wafer Papers and Frosting Sheets?"
Icinginks has the best quality edible papers that meet the regulations of the FDA. The Wafer paper is allergens, gluten, and nut-free. Plus the Icinginks wafer papers are Kosher and made from natural ingredients. Buy edible wafer sheets here.